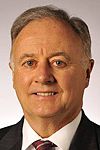 Albany, NY (PRWEB) October 02, 2012
Robert H. Iseman, a partner in the law firm of Iseman Cunningham Riester & Hyde, LLP, was again selected by his peers for inclusion in The Best Lawyers in America® 2013 in the fields of Commercial Litigation, Health Care Law, Antitrust Litigation, and Regulatory Enforcement Litigation (Copyright 2012 by Woodward/White, Inc., of Aiken, SC). He is one of a select group of lawyers to be chosen for inclusion in the Health Care Law category every year since it was added as a Best Lawyers practice area in 1991.
Mr. Iseman has practiced in the health care area for more than 35 years and has represented both individual and institutional health care providers in diverse matters, including corporate governance and compliance issues, fraud and abuse, internal compliance investigations, integrated health care delivery systems, antitrust and medical staff relationships.
He has also been engaged in a broad range of complex civil and business litigation matters for various clients, including many nationally known corporations. The litigated disputes involved claims arising from directors' and officers' liability, securities fraud, breach of fiduciary duty, antitrust, wrongful discharge, defamation, real estate transactions, environmental contamination, insurance coverage issues, and serious personal injury claims.
He has conducted special seminars and presentations for various clients and professional associations, such as the New York State Bar Association, Hospital Education and Research Fund of the Healthcare Association of New York State, and the Healthcare Trustees of New York State. Topics addressed include corporate governance and compliance issues, the fiduciary duty of board members, legally sufficient board oversight of a hospital's financial arrangements with physicians, and civil litigation tactics and techniques.
About Best Lawyers®
Since it was first published in 1983, Best Lawyers has become universally regarded as the definitive guide to legal excellence. Because Best Lawyers is based on an exhaustive peer-review survey in which more than 36,000 leading attorneys cast almost 4.4 million votes on the legal abilities of other lawyers in their practice areas, and because lawyers are not required or allowed to pay a fee to be listed, inclusion in Best Lawyers is considered a singular honor. Corporate Counsel magazine has called Best Lawyers "the most respected referral list of attorneys in practice."
Lawyers listed in Best Lawyers have no say in deciding in which practice areas they are included. They are voted into practice areas entirely as a result of the votes they receive from their peers.
About Iseman, Cunningham, Riester & Hyde, LLP
Iseman, Cunningham, Riester & Hyde, LLP is a seasoned team of transactional and trial lawyers committed to serving you with effective, efficient legal representation. Their attorneys provide you with the same service they would expect if they were the client. They combine the broad perspective of generalists with skill in their respective fields. Although they prefer cooperation, they are ready to aggressively represent your interests in court, if necessary.
Iseman, Cunningham, Riester & Hyde, LLP is a member of the International Society of Primerus Law Firms.