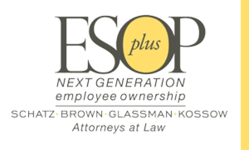 Rochester, NY (PRWEB) March 12, 2012
Rob Brown, a partner at ESOP Plus®: Schatz Brown Glassman Kossow LLP, will facilitate an "Internal Trustee / Fiduciary Roundtable" at the Ohio / Kentucky Chapter of The ESOP Association's Annual Spring ESOP Conference, Wednesday, March 21, 2012. This roundtable will be for internal trustees and professional participants who wish to share and discuss their questions and experiences about ESOP sale transactions, other corporate transactions, and the day-to-day operations that may create fiduciary conflicts of interest.
Mr. Brown will also moderate a breakout session on "Best Practices for Integrating Projected ESOP Repurchase Obligations with Company Financials" at the 26th Annual Ohio Employee Ownership Conference in Akron, OH, on Friday, April 20, 2012.
About ESOP Plus®: Schatz, Brown, Glassman, Kossow, LLP
The ESOP Plus® Schatz Brown Glassman Kossow ESOP Plus team is one of the most experienced middle market ESOP and employee ownership teams in the nation. The team is able to call on other specialized colleagues with expertise in mergers, acquisitions, private equity buyouts, management buyouts, leveraged buyouts, creditor rights, litigation, commercial law and wealth transfer to present clients with a full range of options to match their individual exit, succession, retirement and personal goals.
ESOP Plus® has represented ESOP clients in transactions ranging in size from $500,000 to over $1 billion, and their clients include owners who sell to ESOPs, corporations who sponsor ESOPs, internal and external trustees and fiduciaries.
ESOP Plus® concentrates in the employee ownership field. However they have more than 100 years of experience with many different clients in many different industries, and they are able to counsel clients on the full range of business and exit planning options. ESOP Plus®: Schatz Brown Glassman Kossow's affiliation with the International Society of Primerus Law Firms and with the Alliance of Merger & Acquisition Advisors as well as with other professionals and their professional organizations allows them to engage multidisciplinary and multi-jurisdictional expertise to facilitate clients' goals on a national as well as a global scale.
ESOP Plus®: Schatz, Brown, Glassman, Kossow, LLP is a member of the International Society of Primerus Law Firms.