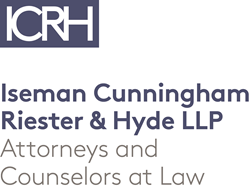 Albany, New York (PRWEB) January 27, 2015
Law firm Iseman, Cunningham, Riester & Hyde LLP (ICRH) served as a sponsor of a Wing Fest fundraising event held January 18 in support of a new children's playground to be built in the Dutchess County town of East Fishkill, New York.
Construction of Julie's Jungle, an adaptive playground, is scheduled to begin this spring and is being made possible through the support of generous community contributions.
The inspiration for the playground's namesake is Julie Keating who passed away in 2007 at age 15. She used a wheelchair for mobility but loved playing outside. Her sister Natalie Keating, now 15, made a proposal for an adaptive playground in memory of her sister to local town officials in 2012 through a letter sent as part of an English class writing assignment.
ICRH managing partner John F. Queenan attended the Wing Fest and was pictured in a photograph which accompanied a news feature about the event in the January 19 print edition of the Poughkeepsie Journal which can be viewed here.
About Iseman, Cunningham, Riester & Hyde LLP
Iseman, Cunningham, Riester & Hyde LLP has extensive experience in litigated and transactional matters and represents clients in many areas of law, including health care; insurance; financial; professional liability; construction; retail; municipal; nonprofit and real estate. As experienced counselors, negotiators and litigators, the firm's attorneys advise clients on complex transactions and disputes; bond financings; securities claims; tax planning; creditors' rights including workouts and bankruptcy; professional licensing, and labor and employment, including collective bargaining negotiations.
Iseman, Cunningham, Riester & Hyde LLP is a member of the International Society of Primerus Law Firms.