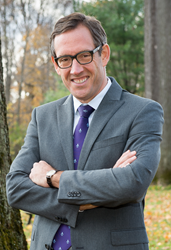 This outcome just shows you that if you do good things, it will eventually come back to you
Albany, New York (PRWEB) March 02, 2015
Joshua E. Mackey, Esq., a partner with Iseman, Cunningham, Riester & Hyde (ICRH), successfully argued in front of a Dutchess County Supreme Court Jury for client, Lula Mae Parker-Harris, a lifetime resident of Poughkeepsie and well-known community volunteer. A jury ruled in favor of Mrs. Parker-Harris and her designation as the rightful owner of a property in the City of Poughkeepsie. The defendant, the Sportsmen Cricket Club of Poughkeepsie, alleged ownership of the building at 218 Winnikee Avenue where its longtime clubhouse operated. (Dutchess County Supreme Court/Index No. 6588/2013)
"The details of this case were complex given the nature of the agreement and tax liens," said Mr. Mackey, "but the jury took time to ensure it had a full understanding of the intricacies associated with this case." According to Mr. Mackey, this is not only an individual's victory, but rather one for all residents of Poughkeepsie as it has long been a dream of Mrs. Parker-Harris to re-open a community center in the building where she enjoyed classes and services as a young woman.
"This outcome just shows you that if you do good things, it will eventually come back to you," said Mrs. Parker-Harris. "I thank Mr. Mackey and his law firm for believing in me."
About Iseman, Cunningham, Riester & Hyde LLP
Iseman, Cunningham, Riester & Hyde LLP has extensive experience in litigated and transactional matters and represents clients in many areas of law, including health care; insurance; financial; professional liability; construction; retail; municipal; nonprofit and real estate. As experienced counselors, negotiators and litigators, the firm's attorneys advise clients on complex transactions and disputes; bond financings; securities claims; tax planning; creditors' rights including workouts and bankruptcy; professional licensing, and labor and employment, including collective bargaining negotiations.
Iseman, Cunningham, Riester & Hyde LLP is a member of the International Society of Primerus Law Firms.