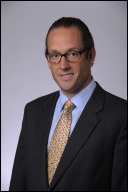 Albany, New York (PRWEB) December 07, 2011
Joshua E. Mackey, a partner in the law firm of Iseman, Cunningham, Riester & Hyde, LLP, received the President's Award at the annual conference of the National Society of Professional Insurance Investigators (NSPII) held in Chicago on November 14. The award was given in recognition of Mackey's dedication to the organization, as well as his leadership role in the formation of NSPII's New York Chapter. NSPII holds regular meetings to inform and develop professionals in the areas of insurance fraud recognition, prevention, and investigation.
Head of ICRH's Insurance Defense Practice Group, Mackey concentrates his practice in litigation, primarily insurance-related matters involving fraud, coverage, breach of contract and negligence. He has extensive experience in insurance fraud prevention, investigation, and defense. He has handled a variety of legal matters involving allegations of fraud, including arson, automobile insurance claims, medical claims, property theft, insurance agent misconduct and internet domain name disputes. Mackey has conducted SIU (Special Investigation Unit) training for major insurance carriers and Fortune 500 companies, as well as continuing legal education classes for attorneys as a lecturer for Lorman Education Services.
About Iseman, Cunningham, Riester & Hyde, LLP:
The mission of Iseman, Cunningham, Riester & Hyde, LLP is simple and straightforward: to diligently and effectively represent and protect clients' interests while adhering to the highest standards of ethics, integrity and professionalism. The firm does this by offering the level of professional skill and sophistication found in the country's largest law firms, with the personal service you can receive only from a small firm.
Iseman, Cunningham, Riester & Hyde's clients are individuals, small businesses, large regional firms and Fortune 500 companies. They include health care systems, construction and engineering firms, health care and liability insurers and service companies, hospitals, banks, government contractors, manufacturers, retailers, trade associations, not-for-profit corporations, nursing homes and physicians.
As experienced counselors, negotiators and litigators, Iseman, Cunningham, Riester & Hyde handles multimillion-dollar transactions and disputes, but the firm also serves the everyday needs of its clients for corporate counseling, tax planning, document preparation and review, professional licensing and other basic services.
Iseman, Cunningham, Riester & Hyde is a member of the International Society of Primerus Law Firms.
###