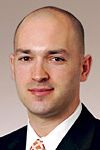 Albany, NY (PRWEB) August 21, 2012
Omer Gil, an associate in the firm's Poughkeepsie office, was named incoming president of the board of directors of Rebuilding Together Dutchess County (RTDC) at the organization's board meeting on August 9. Omer will serve out the remainder of his term as vice president on the RTDC board, a position he has held since September 2011. His new role becomes effective on September 1, 2012. RTDC is an affiliate of Rebuilding Together, the nation's leading non-profit organization working to preserve affordable homeownership and revitalize communities.
The mission of RTDC is to further the work of Rebuilding Together by assuring that low-income homeowners in Dutchess County – particularly those who are elderly, have disabilities, or have school-aged children – live in warmth, safety and independence. The organization's goal is to partner with the communities it serves to make a sustainable impact on the houses of those assisted at no cost to those helped. For more information on RTDC, please visit their website: http://www.rebuildingtogetherdutchess.org
About Iseman, Cunningham, Riester & Hyde, LLP:
Iseman, Cunningham, Riester & Hyde, LLP is a seasoned team of transactional and trial lawyers committed to serving you with effective, efficient legal representation. Their attorneys provide you with the same service they would expect if they were the client. They combine the broad perspective of generalists with skill in our respective fields. Although they prefer cooperation, they are ready to aggressively represent your interests in court.
Iseman, Cunningham, Riester & Hyde, LLP is a member of the International Society of Primerus Law Firms.