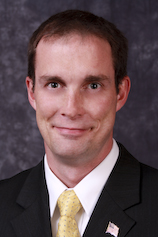 Dayton, OH (PRWEB) January 02, 2012
Freund, Freeze & Arnold, A Legal Professional Association, a Dayton, Ohio-based law firm, is pleased to announce that attorney, Mark C. Engling, was recently named as Chair-Elect for 2012 and Chair of Generation Dayton for 2013. He will also be a member of the steering committee for 2012 and 2013. Generation Dayton is a diverse organization of talented young professionals who live and work in the Dayton region who meet, network, learn, grow, and establish themselves as integral components in the future success of the Dayton region.
Mr. Engling's membership with Generation Dayton began in 2007. His role in Generation Dayton's commitment to its members' professional development directly resulted in the creation and annual presentation of the "Reality Bites" series, which provides continuing education for local professionals on important areas to keep in mind when starting a new business. Generation Dayton honored him as its "featured professional" for December 2010.
About Freund, Freeze & Arnold
Freund, Freeze & Arnold is a litigation firm with offices in Dayton, Cincinnati and Columbus, Ohio, as well as Covington, Kentucky. The firm has achieved the highest rating for law firms by the Martindale-Hubbell Law Directory and is included in the Martindale-Hubbell Bar Register of Pre-eminent Lawyers.
# # #