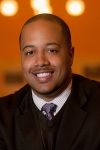 Dayton, OH (PRWEB) July 11, 2012
Freund, Freeze & Arnold, A Legal Professional Association, a Dayton, Ohio-based law firm, is pleased to announce that attorney, Robert L. Gresham, has been elected to serve a three-year term as District 2 representative on the Board of Governors of the Ohio State Bar Association (OSBA). District 2 includes 1,417 attorneys who reside or practice in Darke, Miami, Montgomery, Preble and Shelby counties. He succeeds retiring District 2 representative Thomas L. Guillozet, a Versailles attorney.
Gresham was elected to his new post by area lawyers at an OSBA district meeting several months ago. The 21-member Board of Governors meets monthly to manage the association's business affairs, set policy, review pending legislation and conduct other business on behalf of the 25,000 Ohio lawyers who are OSBA members.
Gresham's law practice focuses primarily on litigation defense, including medical malpractice defense, criminal defense and commercial litigation.
Gresham earned his bachelor's degree from Purdue University and his law degree from Capital University Law School. He currently serves on the Supreme Court of Ohio Board of Commissioners on Grievances and Discipline, and the Montgomery County Public Defender Commission. In the community, he has volunteered with the Big Brothers/Big Sisters program. He enjoys attending concerts, sporting events and movies in his free time.
The Ohio State Bar Association, founded in 1880, is a voluntary association representing approximately 25,000 members of the bench and bar of Ohio, as well as nearly 4,000 legal assistants and law students. Through its activities and the activities of its related organizations, the OSBA serves both its members and the public by promoting the highest standards in the practice of law and the administration of justice.
About Freund, Freeze & Arnold
Freund, Freeze & Arnold is a litigation firm with offices in Dayton, Cincinnati and Columbus, Ohio, as well as Covington, Kentucky. The firm has achieved the highest rating for law firms by the Martindale-Hubbell Law Directory and is included in the Martindale-Hubbell Bar Register of Pre-eminent Lawyers.