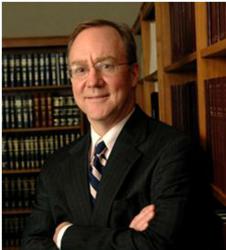 Cleveland, OH (PRWEB) October 15, 2012
Charles F. Adler, III, Esq., partner at Cleveland-based law firm, Schneider, Smeltz, Ranney & LaFond (SSRL) has been selected to be included in The Best Lawyers in America, 19th edition. Described by The American Lawyer as "the most respected referral list of attorneys in practice," Best Lawyers has been regarded by both the legal profession and the public as the most credible and definitive guide to legal excellence in the United States for three decades.
Best Lawyers is the oldest and most respected peer-review publication in the legal profession. A listing in Best Lawyers is widely regarded by both clients and legal professionals as a significant honor, conferred on a lawyer by his or her peers. Best Lawyers lists have earned the respect of the profession, the media, and the public, as the most reliable, unbiased source of legal referrals anywhere. Selection for Best Lawyers is based on an exhaustive and rigorous peer-review survey comprised of more than 4 million confidential evaluations by the top attorneys in the country. Best Lawyers in America is one of the most visible and targeted peer review publications in the legal profession.
Adler joined SSRL in 1993 and became partner in 1995. Adler focuses his practice on innovative estate and succession planning techniques for individuals, families and closely-held businesses as he is certified by the Ohio State Bar Association as a specialist in Estate Planning, Trust and Probate Law. He counsels individuals and families on complex estate, charitable, financial and retirement planning matters; gift and generation-skipping taxes; and on the organization and operation of private foundations. Adler also counsels owners of closely-held and family businesses on succession planning. He is currently admitted to practice in both the states of Ohio and Florida with memberships to the following associations: the Ohio State Bar Association, the Cleveland Metropolitan Bar Association, and the Estate Planning Council of Cleveland.
Adler earned his Juris Doctor in 1983 from Cleveland-Marshall College of Law after graduating from Miami University with a degree in accountancy in 1979. He is a member of the Estate Planning Council of Cleveland. While practicing at SSRL, Adler has been named Ohio Super Lawyer in Cincinnati Magazine from 2004 until 2012. He holds the position of President of the Cleveland Chapter of the Society of Financial Service Professionals. When he is out of the office, Adler served as a Trustee of the Alzheimer's Association, Catholic Charities, and the Frederick W. and Janet P. Dorn Foundation. Adler is also a member of the Estate Planning Advisory Councils at Case Western Reserve University, Cleveland State University, Cleveland Art Museum, Cleveland Hearing and Speech Center, and Cleveland Chapter of the American Red Cross.
About Schneider, Smeltz, Ranney & LaFond, P.L.L.
Schneider, Smeltz, Ranney & LaFond P.L.L. is one of Cleveland's most established law firms where the firm continues a tradition of excellence by combining the technical expertise clients require with personal and timely service. The firm's primary areas of practice include: business law, business succession planning, estate planning and probate, family law, employment law, litigation, real estate, taxation and health care law. Schneider, Smeltz, Ranney & LaFond is proud to serve a variety of clients including closely-held businesses, private family foundations, nonprofit organizations, and families concerned with wealth preservation, wealth transfer, and tax planning issues.
Schneider, Smeltz, Ranney & LaFond, P.L.L. is a member of the International Society of Primerus Law Firms.