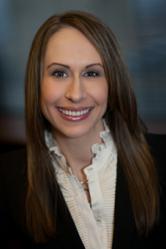 Dayton, Ohio (PRWEB) January 23, 2013
Freund, Freeze & Arnold, A Legal Professional Association, a Dayton, Ohio-based law firm, is pleased to announce that Lindsay M. Johnson, an attorney in the firm's Dayton office, has been selected to participate in the 2013 Ohio State Bar Association Leadership Academy.
The purpose of the Ohio State Bar Association Leadership Academy is to identify and train lawyers for future opportunities for leadership in the Association, the profession and in the community; to nurture effective leadership with respect to ethical, professional and community service issue; to raise the level of awareness among lawyers regarding the broad range of issues facing the legal profession and to build relationships among legal leaders across state and experience levels and create a cadre of lawyers upon which the OSBA, state and local government entities, local bar associations and community organizations can call upon for leadership and service.
Johnson is a Dayton-area native and an active community participant. She is a member of the Young Leaders' Council of Goodwill Easter Seals. Her volunteerism reaches to The Hospice of Dayton, where she sits on both the Board of Trustees and the Performance Improvement and Professional Advisory Council.
Johnson focuses her law practice on helping companies and individuals navigate their way through all types of litigation matters. She also handles pre-suit matters, successfully assisting clients to non-litigation resolutions. Her representative cases include general employment matters, employment discrimination, civil rights claims, race discrimination, medical malpractice defense and ethics issues, including wrongful death, legal malpractice defense, appellate practice matters, and general and complex business disputes, including issues related to tortious interference with business and contracts.
In 2009, Johnson was voted one of Dayton's "Forty Under 40", an award bestowed by the Dayton Business Journal upon the city's up-and-coming business and community leaders. She was named an "Ohio Super Lawyers Rising Star" in the years 2009 through 2013.
About Freund, Freeze & Arnold
Freund, Freeze & Arnold is a Dayton, Ohio-based litigation firm. The firm's strength is grounded in more than 50 attorneys and legal professionals, who bring diverse professional backgrounds and deep experience and expertise in commercial, government, medical, insurance, employment, environmental, construction and other litigation-related matters. The firm has achieved the highest rating for law firms by the Martindale-Hubbell Law Directory and is included in the Martindale-Hubbell Bar Register of Pre-eminent Lawyers.
Freund, Freeze & Arnold is a member of the International Society of Primerus Law Firms.