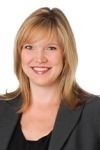 Oklahoma City, Oklahoma (PRWEB) January 03, 2014
Dunlap Codding is pleased to announce that Emily E. Campbell has been named to The University of Oklahoma's College of Engineering Industrial & Systems Engineering Advisory Board.
Emily provides strategic counsel to clients and heads the firm's Trademarks, Copyrights, Internet and E-Commerce Practice Group. Emily is registered to practice before the United States Patent and Trademark Office. She graduated from Oklahoma City University School of Law in May 2007. Prior to law school, Emily received her B.S. in Industrial Engineering in December 2003 from the University of Oklahoma.
About Dunlap Codding
Dunlap Codding P.C. is an Oklahoma City-based law firm serving regional, national and international clients. Established in 1957 as Oklahoma's original intellectual property firm, Dunlap Codding remains the state's largest and most versatile IP boutique. Dunlap Codding represents a substantial number of sophisticated client companies, and for the past 50 years has obtained more patents, trademarks and copyrights than any other firm in the region.
Dunlap Codding is a member of the International Society of Primerus Law Firms.