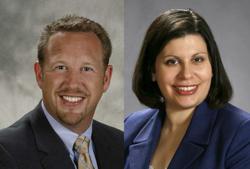 Pittsburgh, Pennsylvania (PRWEB) February 06, 2012
Mr. Walton is practicing with the Corporate Department and the Marcellus & Utica Shales Practice Group. Mr. Walton holds a B.S. in Psychology from the University of Pittsburgh and an M.A. in Industrial/Organizational Psychology from George Mason University. He earned his J.D., cum laude, from Duquesne University School of Law in 2009 and was a member of the Duquesne Law Review. He is a member of the Pennsylvania Bar Association, the Allegheny County Bar Association, the Fayette County Bar Association and the Westmoreland County Bar Association. He also sits on the Westmoreland Drug & Alcohol Commission, Inc., where he serves on the Board of Directors and as Chair of the Personnel Committee. Mr. Walton resides in Uniontown and has a daughter, Cassandra and a son, Cameron.
Ms. Kramer is practicing with the Estates, Trusts & Taxation Group. She holds a B.A. in History and Economics from the University of Dayton and an M.B.A. from Geneva College. She earned her J.D. from Dickinson School of Law, Penn State University in 2002. She is a member of the Pennsylvania Bar Association, the Allegheny County Bar Association, and the Beaver County Bar Association. Ms. Kramer resides in Beaver with her husband, John, and their children Kaitlyn and Cassandra.
About Rothman Gordon
Rothman Gordon, P.C. is a Pittsburgh-based law firm that has been advocating its clients' interests since 1954. Rothman Gordon has created a suite of services for individuals, organizations and closely-held and family businesses. Areas of practice include alternative dispute resolution; business and corporate law; commercial real estate; litigation; estate planning and administration; taxation and employee benefits; financing and commercial loans; employment and labor law; employment litigation; and social security disability.
Rothman Gordon is a member of the International Society of Primerus Law Firms.
###