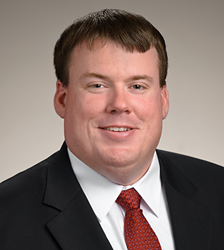 Chris has great and unique experience, and we are thrilled to have him join the Collins & Lacy team
Columbia, South Carolina (PRWEB) November 25, 2014
Collins & Lacy, P.C. is pleased to announce Christopher Huber has joined the firm's Columbia office. Huber is an associate practicing in the areas of insurance coverage litigation and professional liability.
Prior to joining Collins & Lacy, Huber clerked for the Honorable Terry L. Wooten, United States District Judge, where he gained experience in a broad range of civil litigation. Huber also clerked for the Honorable David R. Duncan, Chief United States Bankruptcy Judge, which enabled him to acquire experience in the Chapter 7 liquidation and Chapters 9, 11, 12, and 13 reorganization processes.
"Chris has great and unique experience, and we are thrilled to have him join the Collins & Lacy team," said Scott Wallinger, member of the Management Committee.
Huber, who is from Lexington, South Carolina, majored in history as an undergraduate of Newberry College, graduated with a Masters of History from Clemson University, and then received his Juris Doctor at the University of South Carolina School of Law in Columbia, South Carolina.
"I've enjoyed my time working in the federal court system," said Huber. "But now I'm excited to apply the skills and experience I acquired there to provide the best possible representation to the clients of Collins & Lacy."
About Collins & Lacy, P.C.
Collins & Lacy is a defense litigation firm in South Carolina that delivers valuable legal representation for their clients through solid preparation, thorough execution, and client-oriented service aimed at success. With many offices throughout the state, including Columbia, South Carolina, the firm represents local, regional and national clients in the areas of construction, employment law, hospitality/retail and entertainment law, insurance/bad faith, products liability, professional liability, commercial transportation and workers' compensation.
Collins & Lacy, P.C. is a member of the International Society of Primerus Law Firms.