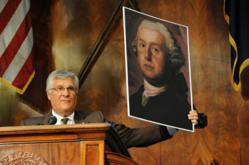 The lecture is designed to acknowledge the wisdom, courage, mistakes and successes of our predecessors who made critical contributions to develop our country's right of self government and preservation of individual liberties
Columbia, South Carolina (PRWEB) August 13, 2012
The 2012 James Otis Lecture Series, hosted by South Carolina chapter of the American Board of Trial Advocates (ABOTA), will focus on "The First Amendment in Modern Times." The lecture series begins 11:00 a.m. on Friday, September 14, 2012 at the South Carolina State House in the House of Representatives Chamber. Since 2010, SC-ABOTA has offered South Carolina high school students the opportunity to participate in the James Otis Lecture Series, an annual program about the U.S. Constitution in observance of National Constitution Day.
Federal law requires all schools that receive federal assistance to have a program about the Constitution on or around the anniversary date of the signing of the Constitution, which was September 17, 1787. SC-ABOTA offers this program as a free service to all South Carolina high schools and invites two outstanding history students from each school to participate. The program also can be viewed live by students on September 14 through South Carolina Educational Television (SCETV). The lecture series is named after James Otis, a prominent Boston lawyer in the colonial era.
"The lecture is designed to acknowledge the wisdom, courage, mistakes and successes of our predecessors who made critical contributions to develop our country's right of self government and preservation of individual liberties," said Joel Collins, past president of SC-ABOTA and founding partner of Collins & Lacy, P.C.
This year's program will discuss privacy and first amendment rights in the age of social media, examining doctrines from the past applied in the context of today's ever-changing technology and its implications for individual rights as well as freedom of speech. SC-ABOTA welcomes Furman University President Rodney Smolla as the keynote speaker. Past James Otis Lecture Series speakers include Dr. Walter Edgar, the late Honorable Matthew J. Perry Jr., winners of the American Legion High School Oratorical Scholarship and other constitutional experts.
To register a high school student for this program or for more information about the SCETV live broadcast, please contact Stefanie Caraviello, Director of Marketing, Collins & Lacy, P.C. at (803) 255-0417 or scaraviello@collinsandlacy.com
About SC-ABOTA
The American Board of Trial Advocates is a national organization, comprised of the country's pre-eminent trial attorneys, whose main goals are the preservation of the Seventh Amendment right to a trial by jury in civil cases and the promotion of professionalism and civility among trial attorneys. The ABOTA South Carolina Chapter also provides educational programs to other attorneys in South Carolina, students at the University of South Carolina Law School and now to high school students in the Palmetto State. The ABOTA South Carolina Chapter has twice been elected "Chapter of the Year" by ABOTA, nationally.
About Collins & Lacy, P.C.
Collins & Lacy is a defense litigation firm in South Carolina that delivers valuable legal representation for their clients through solid preparation, thorough execution, and client-oriented service aimed at success. With many offices throughout the state, including Columbia, South Carolina, the firm represents local, regional and national clients in the areas of construction, employment law, hospitality/retail and entertainment law, insurance/bad faith, products liability, professional liability, commercial transportation and workers' compensation. Collins & Lacy is committed to upholding the highest standards for integrity, civility and community service.
Collins & Lacy, P.C. is a member of the International Society of Primerus Law Firms.