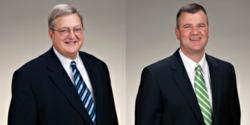 Collins & Lacy is excited that, once again, Leadership in Law has honored two of our attorneys...
Columbia, South Carolina (PRWEB) January 31, 2013
Collins & Lacy, P.C. is pleased to announce partners Jack Griffeth and Jon Ozmint have been selected as recipients of the 2013 Leadership in Law Awards. Jack and Jon are two of only 24 attorneys statewide to receive the designation.
The awards were designed by South Carolina Lawyers Weekly to spotlight those members of the legal community whose leadership, both in the legal profession and in the community, has made a positive impact on our state. The recipients were selected by a panel of judges based on their outstanding achievement in the following key areas: dedication to the legal profession, achievement in their legal career, along with mentoring and community involvement.
Jack Griffeth is a shareholder in the Collins & Lacy Greenville office. His 36-year practice of law has focused on defense trial work, representing employers in employment related litigation and mediation. A snapshot of Jack's leadership and contribution to community include his work as the President of the Greenville Bar Association (2012), the current President for the South Carolina Bar Foundation Board of Directors and a member of the House of Delegates for the 13th Judicial Circuit, among others. In his current role as President of the S.C. Bar Foundation, Jack works tirelessly to promote the Foundation as the "heart of the Bar" among his professional peers, asking for their support to help improve the lives of underprivileged South Carolinians and promote access to justice.
Jon Ozmint is a shareholder in Collins & Lacy's Columbia office focusing in governmental and regulatory affairs, consulting and crisis management at the federal, state and local levels. Jon's practice also includes employment-related issues, professional liability, professional/occupational licensing representation, white collar criminal defense and complex litigation. The most fundamental examples of Jon's forward-thinking leadership are still in effect today because of his eight years of service as the Director of the South Carolina Department of Corrections (SCDC). During Jon's tenure, the agency developed food, medical, and other cost control measures that today are emulated across the nation. He also helped to establish a privately funded inmate "seminary" program that is offered by Columbia International University and two faith-based addiction counseling programs.
Managing Partner Ellen Adams commented, "Collins & Lacy is excited that, once again, Leadership in Law has honored two of our attorneys. Jack Griffeth has performed tireless service on behalf of the South Carolina Bar Foundation as its current president and to the Greenville Bar as the immediate past president. Jon Ozmint is a leader in every sense of the word and in every aspect of his life. We are grateful that Jack and Jon are being recognized for their diligent efforts on behalf of South Carolina."
The award recipients will be recognized at the Leadership in Law event March 14, 2013 in Charleston, South Carolina.
About Collins & Lacy, P.C.
Collins & Lacy is a defense litigation firm in South Carolina that delivers valuable legal representation for their clients through solid preparation, thorough execution, and client-oriented service aimed at success. With many offices throughout the state, including Columbia, South Carolina, the firm represents local, regional and national clients in the areas of construction, employment law, hospitality/retail and entertainment law, insurance/bad faith, products liability, professional liability, commercial transportation and workers' compensation. Collins & Lacy is committed to upholding the highest standards for integrity, civility and community service.
Collins & Lacy, P.C. is a member of the International Society of Primerus Law Firms.