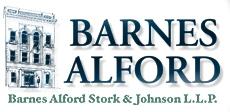 Columbia, SC (PRWEB) November 02, 2011
Alan J. Reyner has been selected by Greater Columbia Business Monthly as a Midlands Legal Elite in the tax law category. Mr. Reyner's selection was published in the magazine's October 2011 issue.
A reception was held at Saluda River Club's Chickawa Outdoor Center in honor of the attorneys who were selected by their peers as Midlands Legal Elites for 2011.
Barnes, Alford, Stork & Johnson, LLP is a Columbia, South Carolina law firm focusing on civil litigation and business and real estate matters. Representing a broad mix of local, state and national clients, the firm offers a wide range of legal services in banking, construction, real estate, insurance, negligence, taxation, probate and estate planning. Barnes Alford is a relationship-oriented firm that closely follows the growth and needs of its clients.
Barnes Alford's goal is to provide excellent, aggressive legal services with a minimum of expense and stress to the client. The firm prides itself on experience, client communication, and efficiency. Barnes Alford's size allows them to provide clients with many of the benefits of a large firm—experience and a wide range of practice areas—with the personal attention, simpler communication, and lower costs of a small firm. The firm is pleased to represent clients ranging from large corporations to individuals, including many of the area's prominent corporate and private citizens. Barnes Alford also represents several religious denominations, churches, and charities.
Barnes Alford aims to communicate effectively with its clients in order to make certain that the goals the firm pursues in litigation and other matters are consistent with what clients want and expect. A common complaint about lawyers is that they do not keep the client advised of the status of his or her case. Barnes Alford prides itself on being a law firm that communicates well with clients to let them know how their cases are proceeding.
Barnes Alford also understands that its clients want to keep legal fees, expenses, and costs to a minimum. A common question asked by prospective clients is: "How much is this going to cost me?" Barnes Alford understands and endeavors to resolve each case at a minimum charge to its clients. Additionally, being a mid-sized law firm allows the firm to keep its overhead low; Barnes Alford passes these savings on to its clients.
The firm's fee structure does not sacrifice the quality of its work or the aggressiveness of its representation. Barnes Alford will do its absolute best to achieve the client's desired result. The firm defends and prosecutes its cases actively and aggressively. Barnes Alford carefully analyzes its client's options, presents those options to the client, and lets the client decide how to proceed.
Professionalism is also extremely important to the firm. Treating clients, witnesses, and others with respect is a cornerstone of the Barnes Alford philosophy. While the firm believes in aggressive representation, civility with the opposition is often just as vital to the successful resolution of a matter.
Barnes, Alford, Stork & Johnson, LLP is a member of the International Society of Primerus Law Firms.
###