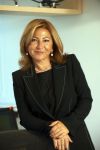 Istanbul, Turkey (PRWEB) March 11, 2013
Serap Zuvin Law Office (SZLO) is proud to announce that sole partner, Ms. Serap Zuvin was recently interviewed by EcoIQ Magazine, which is the first carbon neutral magazine in Turkey. The interview was based solely on Serap Zuvin Law Office's ("SZLO") participation in WWF's Green Office Program. The final article was published on January 3, 2012 in the 25th issue of the EcoIQ Magazine.
EcoIQ Magazine emphasizes that SZLO is the first law firm in Turkey who has applied for the Green Office Program and summarizes the contributions of the firm/firm members on reducing their ecological footprint. The interview briefs its readers on the carbon footprint program that SZLO has adopted as a part of the project, the inter-office renovations of the firm and the progress made to date in terms of obtaining the Green Office Certificate.
In order to raise the environmental awareness and encourage other law firms to participate in the Green Office Program, during the interview Ms. Zuvin has invited the readers to take measures for reducing their carbon footprint such as using environment friendly products, calibration of printing units, reduction of paper and using sustainable papers, sorting wastes, recycling of batteries, paper, plastic, metal; utilization of water saving systems, etc.
In order to exemplify the measures takes in the firm, Ms. Zuvin stated that the water purifying system has been adopted and the members of the firm no longer use plastic water bottles. She has also made note that the firm started using refillable pens, sustainable papers and calibrated all the printers to save both paper and ink, rechargeable batteries, using metal/ceramic/glass kitchenware instead of plastic etc.
One of the best actions that the firm has taken is that at least three trees are being planted as a birthday gift for the birthday of the firm members.
The interview has been published in EcoIQ Magazine January 2013 Issue: 25
About Serap Zuvin Law Offices
Serap Zuvin Law Offices is an Istanbul based law firm representing domestic and international blue-chip corporate clients in local and cross-border transactions by combining its local expert se with the global standards.
Ever since its establishment in 2000, SZLO has been recognized for providing high quality legal and business services to its clients with efficiency and expediency. It is the firm's mission statement to resolve the most urgent and demanding problems of its clients by providing the most comprehensive analysis, expedient and custom-tailored solutions.
To assist its clients as part of their local and cross border operations and legal disputes with the finest superiority, each team member of SZLO are conversant in English and most of them speak at least a third language (French, German etc.) as well as being graduates of the most reputable law schools in Turkey.
Serap Zuvin Law Office is a member of the International Society of Primerus Law Firms.