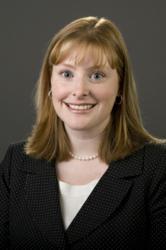 Salt Lake City, Utah (PRWEB) May 20, 2013
Prince Yeates attorney Erin Stone has been named a recipient of the 30 Women to Watch Award by Utah Business Magazine. She will be featured in the May 2013 issue of Utah Business Magazine, and will be recognized at a reception on May 17 at the Grand America Hotel in Salt Lake City.
The 30 Women to Watch Award recognizes women who excel in their respective professional fields. They represent the contributions of many women in Utah, where 66,300 women-owned businesses contribute $11.4 billion to the state's economy each year, according to the latest American Express OPEN State of Women-Owned Businesses Report.
Erin Stone's practice primarily focuses on corporate bankruptcy and commercial litigation at Prince Yeates. Her experience includes clerking for the Honorable J. Thomas Greene of the U.S. District Court, District of Utah. Ms. Stone has been a board member of Girl Scouts of Utah since 2009 and was elected to serve as the 2012-2013 board chair-elect, and is slated to be the 2013-2015 board chair.
About Prince Yeates
For 35 years Prince Yeates has delivered a powerful combination of legal expertise and effective, innovative representation to valued clients throughout the United States and abroad.
Prince Yeates is recognized throughout the Intermountain West as a law firm that provides able, innovative, and cost effective legal services. Firm members have an exceptional record of participation in civic, community and professional organizations and activities.
Prince Yeates is a member of the International Society of Primerus Law Firms.