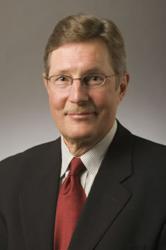 Salt Lake City, Utah (PRWEB) February 05, 2013
Prince Yeates & Geldzahler attorney and president John Chindlund has been selected as a "2013 Top Rated Lawyer in Labor & Employment" by the American Lawyer Media and Martindale-Hubble.
The American Lawyer Media, a leading provider of news and information to the legal industry, has teamed up with Martindale-Hubbell to highlight "Top Rated Lawyers" in the February issue of The National Law Journal.
Mr. Chindlund practices labor and employment law, representing employers in all issues pertaining to the employer–employee relationship. He handles matters involving the National Labor Relations Board, the Equal Employment Opportunity Commission, the United States Department of Labor, the Occupational Safety and Health Administration and the Utah Anti-Discrimination and Labor division.
Mr. Chindlund also defends employers against state causes of action arising out of the employer–employee relationship, including wrongful termination actions, intentional tort claims, workers' compensation and unemployment claims. Mr. Chindlund helps employers negotiate collective bargaining agreements and arbitrate grievances under such agreements, and assists in defending employers against ERISA withdrawal liability claims by multiemployer defined benefit pension plans and other is areas in which he has wide experience.
Before joining Prince Yeates, Mr. Chindlund served as staff counsel to a board member of the National Labor Relations Board in Washington, D.C. He was also a trial lawyer for a regional office of the National Labor Relations Board.
About Prince Yeates
For 35 years Prince Yeates has delivered a powerful combination of legal expertise and effective, innovative representation to valued clients throughout the United States and abroad.
Prince Yeates is recognized throughout the Intermountain West as a law firm that provides able, innovative, and cost effective legal services. Firm members have an exceptional record of participation in civic, community and professional organizations and activities.
Prince Yeates is a member of the International Society of Primerus Law Firms.