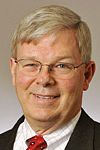 We could not be more pleased to have Richard Mitchell rejoin us, particularly given his historical perspective and his well-recognized leadership in so many aspects of community life in the Hudson Valley
Albany, New York (PRWEB) July 03, 2012
Richard A. Mitchell, a partner in the law firm of Iseman, Cunningham, Riester & Hyde, LLP, has been selected to join the board of directors of Family Services. As a member of the board, Rick will support Family Services' mission to help families and individuals help themselves through direct services, collaboration and advocacy. "We could not be more pleased to have Richard Mitchell rejoin us, particularly given his historical perspective and his well-recognized leadership in so many aspects of community life in the Hudson Valley" Board Chair Sandra Ludlum said in a prepared statement. Rick, a lifelong resident of Poughkeepsie, served on the Family Services board prior to 2012, but had left in 2007 to serve as the Board Chair of the United Way of Dutchess County.
Family Services forges community partnerships through collaboration and advocacy in health and human services as well as cultural and educational opportunities to improve the lives of individuals and families in the Hudson Valley. Its programs include youth development, counseling and support, case management, education, staff training and development, program design and evaluation – all geared to helping people help themselves.
Head of ICRH's Charitable Contributions committee, Mr. Mitchell concentrates his practice in the areas of banking, bankruptcy, workouts and commercial litigation, as well as health care, corporate and transactional matters. His banking practice includes representation of major banks and corporations as lenders, both secured and unsecured, in Chapter 7, 11 and 13 cases throughout New York. He has handled bankruptcies in such diverse fields as construction, health care and retail. Rick's health care practice includes representation of physicians with respect to practice formation, choice of entity, governance, employment agreements, and regulatory compliance. He has negotiated exclusive contracts, recruiting agreements, and other contracts with hospitals, and has represented health care clients in mergers and acquisitions.
About Iseman, Cunningham, Riester & Hyde, LLP:
The mission of Iseman, Cunningham, Riester & Hyde, LLP is simple and straightforward: to diligently and effectively represent and protect clients' interests while adhering to the highest standards of ethics, integrity and professionalism. The firm does this by offering the level of professional skill and sophistication found in the country's largest law firms, with the personal service you can receive only from a small firm.
Iseman, Cunningham, Riester & Hyde's clients are individuals, small businesses, large regional firms and Fortune 500 companies. They include health care systems, construction and engineering firms, health care and liability insurers and service companies, hospitals, banks, government contractors, manufacturers, retailers, trade associations, not-for-profit corporations, nursing homes and physicians.
As experienced counselors, negotiators and litigators, Iseman, Cunningham, Riester & Hyde handles multimillion-dollar transactions and disputes, but the firm also serves the everyday needs of its clients for corporate counseling, tax planning, document preparation and review, professional licensing and other basic services.
Iseman, Cunningham, Riester & Hyde, LLP is a member of the International Society of Primerus Law Firms.