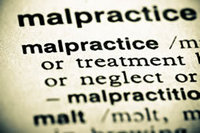 "This was a very close and loving married couple. Further more, the wife was totally dependent on her husband for financial support"
Cleveland, OH (PRWEB) February 23, 2010
Medical negligence attorney Nicholas A. DiCello of the Spangenberg Law Firm in Cleveland, Ohio reports that he and his firm have obtained a substantial monetary settlement on behalf of a local man's widow and children. (Case number CV-08-654754 filed in the Court of Common Pleas, Cuyahoga County, Ohio.)
According to the case, when his wife needed to have a colonoscopy, a local NASA engineer offered to get one with her. During their initial consultation, the gastroenterologist instructed the patient to stop taking his Plavix® and Aspirin anti-blood clot medications five days before the colonoscopy, and to remain off of them for two days following the procedure. The gastroenterologist did not bother to consult with his patient's treating cardiologist who prescribed the medications to determine if stopping them was safe. The couples' colonoscopies were clear. The following morning, however, shortly after arriving to work, the NASA engineer suffered a massive fatal heart attack when blood clots clogged his coronary arteries. The local husband and father of three was 59 years old.
Because of his heart condition, a family history of premature coronary artery disease, and various stenting procedures, Attorney DiCello's client was prescribed long-term Plavix® and Aspirin - two powerful anti-blood clot medications. As stated in the case, when he went for an elective screening colonoscopy, however, the gastroenterologist assured attorney DiCello's clients that temporarily stopping the medications, to reduce the risk of bleeding if a large polyp was encountered and removed during the procedure, was safe.
The Gastroenterologist Offered No Other Alternatives
Unfortunately, as stated in court documents, the gastroenterologist offered no other alternatives - procedures that could have effectively screened for colon cancer without the need to stop any medications. Furthermore, the procedure ultimately performed by the gastroenterologist carried a very low risk of bleeding and thus, did not require the patient to discontinue his Plavix® and Aspirin before or after the colonoscopy. Instead of instructing him to immediately resume his medications, however, Mr. DiCello's client was instructed to remain off of his anti-blood clot drugs for an additional two days, during which he died.
The widow, retired from employment at a local school, has been devastated, both emotionally and financially, by the sudden death of her husband. "This was a very close and loving married couple. Furthermore, the wife was totally dependent on her husband for financial support," DiCello said. 'Plavix® and Aspirin are widely prescribed drugs that are critical to preventing the formation of deadly blood clots in the heart. Careful consideration, including consultation with prescribing doctors, must be undertaken before instructing a patient to stop taking these powerful medications.' The settlement will ensure attorney DiCello's client a measure of financial stability.
The Cleveland Attorneys of the Spangenberg, Shibley & Liber Ohio Law Firm have devoted themselves to representing injured persons and aggrieved businesses for more than sixty-five years. They are headquartered at 1001 Lakeside Avenue East, Suite 1700, in Cleveland, Ohio 44114. For more information, you are invited to visit them online at: Spanglaw.com.
Renee Latkovic - Public Relations Director
Spangenberg, Shibley & Liber LLP
1001 Lakeside Avenue East, Suite 1700
Cleveland, Ohio 44114
Call Toll Free: (877) 696-3303
Local: (216) 696-3232
Fax: (216) 696-3924
###