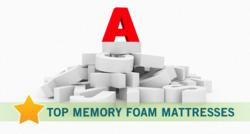 Tempe, AZ (PRWEB) February 21, 2013
Comparing the plethora of memory foam mattress brands on the market is an essential, but often tedious, part of getting a new bed. BestMattress-Reviews.org aims to make the process a little simpler with their latest post, "Top Memory Foam Mattress Retailers Reviewed," which compares eight brands.
The comparison takes a unique and comprehensive approach, assessing both features and consumer opinion. The mattress brands this article addresses encompass luxury retailers and big-box discounters whose prices range from $260 to $7,500: Amazon, Amerisleep, Costco, Overstock, Sealy, Serta, Tempurpedic, and Walmart.
The core information is consolidated in two charts, the first of which looks at aspects like density, manufacturing origin, guarantees and price. The second compare reports of owner satisfaction, heat, odor, ease of movement, lifespan, and more. The consumer review part of the study drew from over 7200 owner experiences.
Following the tables, the blog offers a detailed explanation of each brand's advantages and disadvantages. The top four retailers in terms of consumer opinion proved Amerisleep's plant-based memory foam, Tempurpedic's luxury lines, Sealy's Optimum Line, and Serta's gel-based iComfort.
The article concludes with an assessment of the factors, and how they relate to consumers seeking the best mattress. While the top four brands claim different features, one consistent aspect is US manufacturing and good guarantees. Lines sold through common discounters, especially low-density imports, received the lowest marks in both healthiness and satisfaction. Best Mattress Reviews also offers tips on buying a mattress online and other useful information for prospective mattress shoppers.
BestMattress-Reviews.org is a blog dedicated to providing mattress and sleep product information. On the blog, independent industry professionals provide expert opinions and recommendations backed by research and customer reviews. The website aims to make the buying and research process a little simpler by collecting and analyzing information in a digestible, enjoyable format.