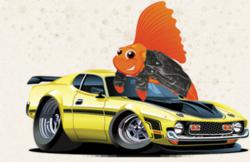 There are lots of different financial apps on the market but users have to go with the one that they're going to stick with.
Los Angeles, CA (PRWEB) July 31, 2012
RoadFish.com men's lifestyle and finance magazine today dished out its top picks for mobile financial apps after a PCMag article highlighted some of its personal favorite applications. RoadFish.com also offered some advice to readers about how to pick the right app for them, since there are so many available on the market these days.
Jill Duffy and Sara Yin together wrote a recent article that was published in PCMag highlighting the top financial apps. The authors pointed out that many of the popular personal finance apps operate on the idea that streamlined financing and easy visibility can greatly help one's money management. In this regard, many of the top apps have software that centralize a consumer's bank accounts, utilities, bills, and miscellaneous spending so that everything is visible in one place—and sometimes in the form of a neat and easy to read pie chart. Some of Duffy and Yin's top picks for financial apps include Mint.com, Pageonce, Doxo, and Adaptu Wallet iPhone App. These applications do everything from streamline all loans, checking, credit, and savings accounts to allow the user to set up custom budgets and goals, like saving up for a house or to go on vacation.
RoadFish.com loves the idea of having mobile and accessible personal finance management software, and advises readers to try them each on for size before picking one that fits. RoadFish.com's Senior staff writer is quoted as saying, "I think the reason there are so many successful personal finance apps out there is because each person comes with different visual preferences, financial situations, and tastes. There are lots of different financial apps on the market but users have to go with the one that they're going to stick with. Otherwise it'll be like the Coupon Saver app I downloaded onto my phone a year ago—I think about it every so often, but never actually use it, which does me absolutely no good. Each financial app offers different ways of charting, displaying and categorizing your spending, setting goals, and reminding you to pay bills. So I'd encourage readers to play around with a few of them, to see which one feels the best, and then make a personal commitment to keep up on it."
RoadFish.com dished out some of its favorite picks, a few of which weren't listed in the above-mentioned articles. A shared favorite is Mint.com, which RoadFish.com recommended to anybody who wanted a convenient way to manage finances all in one place, with the ease of having all account activity available from one screen. One of RoadFish.com's top picks that wasn't listed in the PCMag article is called Debt Minder, available for $1.99 in the app marketplace. The tagline on this application is that it will help users on the way to becoming free from debt, which can in turn amp up the user's credit score. The app works by analyzing how much a consumer owes and to how many different financial institutions, then it maps out a proposal for a payment schedule which will allow the consumer to pay off the debts faster. Another RoadFish.com favorite is BillTracker, also available for $1.99. BillTracker organizes all bills into one simple calendar, essentially streamlining and simplifying somebody's monthly payments. The app also keeps a complete history for each account, such as gas, electric, cable, and phone, where it holds all payment confirmations and when each bill was paid.
In the above-mentioned PCMag article, authors Duffy and Yin bring up the question of how secure financial mobile apps are. They concur that most of the brand-name apps are "probably as secure as carrying a credit card in your wallet," meaning that there is always the danger of losing your phone and having it hacked, but then again the same thing can happen if you lose a credit or debit card. The article points out that most personal finance websites use bank or military level encryption and are backed by well-known and reliable companies like TRUSTe and MacAfee. The article recommends setting a strong password to get into the personal finance apps, as most of them allow users to build an additional PIN in order to open the app. Users also have the option of remotely deactivating many of the mobile accounts from a computer, in the event that a phone does get lost.
About RoadFish.com
RoadFish.com is a well-read online men's magazine whose articles include topics of lifestyle, money management and personal finance. RoadFish.com's audience is comprised of men in their 30's and 40's, most of who are successful in life and are striving towards bigger personal and financial goals. RoadFish.com men's lifestyle and finance magazine features topics such as men's luxury items, current events, hot chicks, divorce tips, food and hotel reviews, and mortgage tips. It is owned and operated by Purpose Inc.