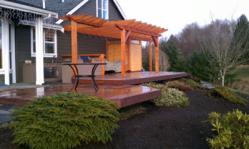 Olympia, WA (PRWEB) February 10, 2012
When Olympia field service engineer Will Morrison wanted to replace the six-foot porch behind his home, he knew right where to look for a contractor—his fellow Fraternal Order of Eagles member Richard Summers, of Richard Summers Remodeling. "I know Richard, and I knew what he did for a living," says Morrison. "When I had some ideas for adding a deck, I took them straight to him and said why don't you come out and look at my ideas and my land, and we'll see what we can come up with."
The end result of what became an invaluable collaborative effort is a beautiful deck that spans the entire length of Morrison's rural home. The home sits on one and one-half acres and overlooks a large pond and wetland.
"We do a lot of entertaining," says Morrison, who lives with wife, Tamra, their eight-year-old son, Liam, and several pets. "We wanted something that would allow us to enjoy the outdoors and our view."
The project began with Morrison's pencil sketch. Summers then took the sketch and made an AutoCad drawing of a two-level, low profile post and beam structure with tight knot cedar decking. It has a partition in the corner that serves multiple purposes by creating privacy and screening from the driveway, as well as additional support and aesthetics for a pergola that covers the deck. In addition, the deck also has a bar with a grill and sink for outdoor cooking and entertaining.
On a tight budget and with time issues, Morrison is pleased with what Richard Summers Remodeling did given the constraints. "We could have sped through the project in two weeks, but I had time constraints as to when I could be here," says Morrison. "He worked around my schedule. Also, if he had sped up the process, he would have had to hire a couple of people to help him, and that's not something I could afford."
"I would absolutely recommend him to others," Morrison adds. "Richard was patient, and he pays a great deal of attention to detail. He made sure the job was done right. You could park a train on that deck. It's built well over code and should last a lifetime."
To find out more about this exceptional company, Richard Summers Remodeling, please visit their website and blog at http://www.richardsummersremodeling.com.
About Richard Summers Remodeling:
Richard Summers Remodeling specializes in architectural design, kitchen and bathroom remodels, additions, decks, and much more. With 15 years of experience, owner Richard Summers is devoted to providing quality service and affordable excellence for every home improvement project. The company serves Olymbpia, Lacey, and Tumwater, Washington.
###