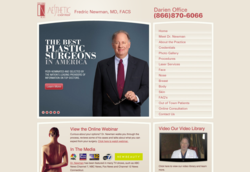 I am grateful to have received such a prestigious award acknowledging my care and commitment to my patients.
Fairfield, CT (PRWEB) January 11, 2012
With the release of Castle Connolly's guide to America's Top Doctors®, Dr. Fredric Newman has been recognized as one of the "Top Plastic Surgeons in America" for his work in plastic surgery in Connecticut. Board-certified in both surgery and plastic surgery, Dr. Newman says he is honored to receive the distinguished award as a manifestation of his passion for patient care and providing the highest quality results. He adds that he hopes the selection will offer him the opportunity to reiterate his dedication to medical integrity and the highest degree of patient satisfaction. Focusing on a range of procedures, from rhinoplasty to breast augmentation in Fairfield County, CT, Dr. Newman says his commitment to his patients has been recognized and he is thankful for this honor by Castle Connolly Medical, Ltd. "I am grateful to have received such a prestigious award acknowledging my care and commitment to my patients."
Founded by healthcare professionals John K. Castle and John J. Connolly, Ed.D., Castle Connolly is a medical resource that publishes reviews and guides for doctors and patients. The selection process for the Castle Connolly guide to America's Top Doctors® begins with a peer-selected survey sent to over 50,000 physicians and medical executives, including every licensed MD and DO in the country. The survey asks each respondent to nominate the doctors they feel demonstrate the highest degree of qualification and aptitude in each field. Following nominations, Castle Connolly heads a physician-led research team to review each candidate based on their credentials, medical education, training, hospital appointments, professional achievements, and malpractice and disciplinary history. Doctors cannot pay to be included in any Castle Connolly online directory or guidebook.
Having devoted over 20 years to cosmetic and advanced reconstructive surgery, Dr. Newman says he is excited to receive the award and is grateful for the continued motivation to provide the latest, safest, and most effective procedures available in plastic surgery. He adds that because of guides like the Castle Connolly America's Top Doctors® directory, patients can be reassured of their surgeon's credentials and dedication to ethical practice.
About Fredric Newman, MD, FACS
After being educated at Yale, Dr. Fredric Newman earned his M.D. from S.U.N.Y. Downstate Medical Center, graduating summa cum laude. He also did further training in surgery at Harvard Medical School. During his plastic surgery residency at the Institute of Reconstructive Plastic Surgery at the New York University Medical Center, he served as the Plastic Surgery Chief Resident. Dr. Newman has also contributed to the ongoing education of others in plastic surgery through teaching opportunities at Harvard Medical School, New York University Medical School, Columbia College of Physicians and Surgeons, and several other distinguished universities. He is a diplomat of the National Board of Medical Examiners, the American Board of Surgery, and the American Board of Plastic Surgery, as well as a Fellow of the American College of Surgeons and the International College of Surgeons. Dr. Newman is a current member of the American Society of Plastic Surgeons and the American Society for Aesthetic Plastic Surgery, and he serves as an Editorial Board Member of The Journal of Aesthetic Dermatology and Cosmetic Surgery.
Located at 722 Post Road, Suite 200 in Darien, CT, Dr. Newman's practice, The Aesthetic Surgery Center, can be reached at (866) 870-6066. It can also be contacted online via the website fredricnewmanmd.com or facebook.com/pages/Fredric-Newman-MD-Aesthetic-Surgery-Center/119873104696021.
###