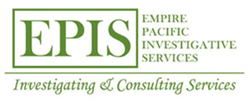 We are given the responsibility to handle serious business matters and delicate family issues. To know our clients are satisfied with our services is something we deeply value, says Mike Hakimi, President of EPIS
Los Angeles, CA (PRWEB) April 26, 2016
Find Local Contractors is an accessible and credible online directory that was designed to help consumers find the contractors in their area. The directory features company profiles along with links to multiple customer review sources. Find Local Contractors has recently named Empire Pacific Investigative Services, Inc. (EPIS) as a 2015 Top Rated Los Angeles Investigative Services Firm for their excellent ratings and reviews as a private investigator. The firm's dedication to client service and mission to perform under honest, loyal, and ethical standards has earned EPIS this esteemed acknowledgement from Find Local Contractors.
Empire Pacific Investigative Services, Inc. (EPIS) was established in 1993 by three retired U. S. Federal Special Agents. They offer a complete menu of investigative and consulting services for Beverly Hills residents, including services at the state and federal level. From background check screening and insurance fraud to infidelity investigations and computer forensics, EPIS is known for their proven success in bringing new life to previous cases. As licensed and bonded California private investigators, they offer specialized knowledge and training in surveillance, which is a valued advantage for those who need to capture evidence in a child custody case, missing person case or infidelity situations. Empire Pacific Investigative Services also serves businesses with valued confidentiality and reputable expertise in detecting and exposing fraud, litigation and employee theft.
EPIS is set apart from their competitors by their vast experience and diverse training. Not only is EPIS highly received by local clients, but they are also recognized worldwide for their strong business ethics and superior outcomes. Their investigative services span across the country, including Asia and Australia. Their team consists of associates pulled from the top ranks of federal, state, and local law enforcement. Many EPIS team members carry at least three decades of investigative experience, which further supports the expansive list of services offered at Empire Pacific Investigative Services, Inc.
"We are given the responsibility to handle serious business matters and delicate family issues. To know our clients are satisfied with our services is something we deeply value," says Mike Hakimi, President of EPIS.
Empire Pacific Investigative Services, Inc. serves the greater Los Angeles and Beverly Hills area and offers free consultations for services in infidelity investigation, domestic surveillance, child support investigation, missing person searches, employee theft and fraud investigation.
To learn more about Empire Pacific Investigative Services, Inc., please visit http://www.epis.us or call (310) 657-3747.