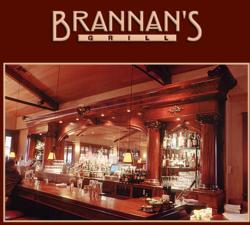 Calistoga, CA (PRWEB) October 06, 2011
Napa Steak House, Brannan's Grill now offers a weekend brunch menu at its Napa Valley restaurant from 9:30 a.m. until 2:30 p.m. on Saturdays and Sundays. Brunch menu items go beyond the usual Eggs Benedict or Belgian Waffles; instead, Brannan's offers "Jon's Breakfast Sandwich," a potato pancake and jack cheese within two pieces of sunshine toast with maple sausage and a fried egg, and "The 3:30," two three minute and 30 second eggs with sourdough toast, grilled heirloom tomatoes and roasted garlic potatoes.
Brunch can be enjoyed in the quiet sophistication of Brannan's mahogany paneled dining room while enjoying the open-air dining space and the Calistoga street scene.
Brannan's critically acclaimed Napa Valley restaurant in Calistoga, one of the Napa's top restaurants, offers an award-winning wine list featuring rare selections from Napa Valley wineries as well as Sonoma county appellations. Quality wines, chosen for their prestige and value, appear on the wine list and pair well with the fine dining experience. Brannan's extensive wines-by-the-glass menu offers a production from Brannan's own Calistoga ranch and vineyard, of which customers may request a private tour. Whether customers prefer al-fresco dining in warmer weather or a cozy booth by the fireplace on cool evenings, their dining experience at Brannan's will be memorable.
For more information about Brannan's Grill, call 707-282-5336 or visit http://www.brannansgrill.com. Brannan's Grill is located at 1374 Lincoln Ave., Calistoga, CA 94515.
About Brannan's Grill
Brannan's Grill, one of the best restaurants in Napa Valley, offers a critically acclaimed wine list with more than 300 selections from some of the most sought after vintners in wine country, including numerous Sonoma appellations, selections from Willamette Valley, Europe and Australia. The steak house's goal is to offer guests the latest hard-to-find selections and seasonal releases.
###