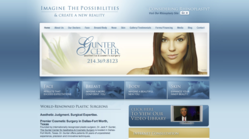 Dallas, TX (PRWEB) November 17, 2011
Castle Connolly Medical Ltd. has announced the selection of Dallas plastic surgeon Jack Gunter MD to its list of "America's Top Doctors." Dr. Gunter says he is honored to be selected for the list for his continued dedication to providing quality care and excellent results. He says the selection gives him the chance to reiterate his constant efforts to achieve the highest degree of medical integrity and patient satisfaction. Dr. Gunter is double board-certified in plastic surgery and otolaryngology and is also a recipient of the American Society of Plastic Surgeons (ASPS) President's Award, the Simon Fredrick's Award, and the Aesthetic Award for video of "Primary Rhinoplasty via the Open Approach."
Castle Connolly's initial step in the selection process for "America's Top Doctors" begins with a survey sent to physicians and medical professionals asking for nominations of the doctors they feel demonstrate the highest degree of qualification and aptitude in their field. This year, the survey was extended to every licensed MD and DO in the country, over 50,000 physicians and medical executives.
Following nominations, Castle Connolly's physician-led research team reviews the potential candidate's credentials, medical education, training, hospital appointments, administrative posts, professional achievements, and malpractice and disciplinary history. For their selection of "America's Top Doctors," Castle Connolly selected Dr. Gunter in Dallas due to his contributions to rhinoplasty and revision rhinoplasty. Dr. Gunter says his selection signifies recognition for over 35 years of experience in plastic surgery and his research in the area of nasal deformities and post operative surgical problems.
At this time, Dr. Gunter has personally chosen to focus his interest on complex secondary rhinoplasty cases. He says he hopes to continue promoting the advancement of the field of plastic surgery and the level of patient comfort and care.
About Jack P. Gunter MD
Dr. Jack P. Gunter received his undergraduate degree from Westminster College in Fulton, MO and his Doctor of Medicine degree from the University of Oklahoma School of Medicine. He completed his residency in Plastic Surgery at the University of Michigan, his residency in Otolaryngology at Tulane University EENT Hospital, and his General Surgery residency training at the University of Arkansas Medical Center. Dr. Gunter is a member of the American Society of Plastic Surgeons, the American Society for Aesthetic Plastic Surgery, the American Academy of Otolaryngology-Head & Neck Surgery, and a founding member of The Rhinoplasty Society, Inc. He has received numerous awards in plastic surgery and is a routine lecturer for national and international meetings and symposia.
About Castle Connolly Medical Ltd.
Founded by healthcare professionals John K. Castle and John J. Connolly, Ed.D., Castle Connolly is a review resource and medical guide for doctors and patients. It provides a number of corporate products and services such as a New Movers Program, a Doctor-Patient Advisor Service, and Castle Connolly LifeStream MD service. Doctors cannot pay to be included in its online directory or guide book.
Located at 8144 Walnut Hill Lane, Suite 170 in Dallas, TX, Dr. Gunter's practice can be reached at (214) 369-8123. He can also be contacted online via the website http://www.gunter-center.com, rhinoplasty-usa.com, or facebook.com/guntercenter.
###