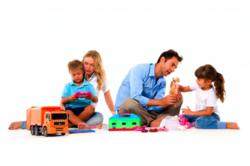 Finding a requested toy in stock can be problematic without a source to use for help.
Hartford, Connecticuit (PRWEB) December 10, 2012
Buying the perfect toy for a child is one of the things that parents hope happens during the holidays. Finding a requested toy in stock can be problematic without a source to use for help. ThoseTechGuys.com have released a top holiday toys 2012 list online to serve as a primer for those that have not purchased online for Christmas yet. This list details that 25 percent off toys online can found by visiting this retailer online.
Electronics for adults has ruled the 2012 season and many children's toys have been left out of the mix. One company has created what some refer to as the best tablet for a child. The VTech InnoTab 2 Learning App Tablet provides an alternative to purchased a Kindle or iPad and focuses on learning applications.
The VTech InnoTab 2 Learning App Tablet normally retails for about $130 and is now discounted online according to the new shoppers guide. This price point is designed to give an alternative to children compared to a standard tablet.
Gifts for girls can be hard for some to select due to the product shortages. While most of the market leans toward boys and teens, young girls have access to one toy that has stood the generation gap for over 50 years. The Barbie 3-Story Dream Townhouse was recently relaunched as a product and now features a new lower price.
ThoseTechGuys.com found that the Barbie 3-Story Dream Townhouse is now offered at 29 percent off for the holidays in its new toy guide. This discounted price is to help parents save money purchasing one of the most in-demand toys for girls.
Melissa & Doug is one of the premier creators of learning and educational toys for children. While no electronic toys exist in the current lineup, the classic toys that are offered have remained in demand for over a decade online and offline. The toy guide published revealed the popularity of the Melissa & Doug Fire Chief Costume set. 
For parents with children that want to be a firefighter, this new costume set was found selling for a larger than average discount from this retailer online. This price drop is unique to a few select retailers and not all store surveyed had this costume in stock. 
The Leap Frog company introduced its LeapPad Explorer in 2010. This toy quickly became in demand for its learning games and interactivity with children ages 4 and up. This toy was featured heavily on Black Friday and has continued its supremacy as an in-demand toy for 2012 according to the new toy guide.
While pricing was found to vary from online retailers, the LeapFrog LeapPad2 Explorer was found discounted from its original MSRP. Parents or others that did not purchase online for Black Friday or Cyber Monday could find the new price point to be more than competitive online compared to brick and mortar stores.
About Those Tech Guys
The 2010 launch of this technology based website introduced the review concept to online visitors. The growth experienced in 2012 has helped this company innovate from technology reviews to consumer reviews to help online shoppers find last minute deals and other discounts online. Those Tech Guys have published a series of guides, lists and reviews online specifically targeted some of the most requested products for the holiday season. A brand new company website design is expected online at http://www.thosetechguys.com in 2013.