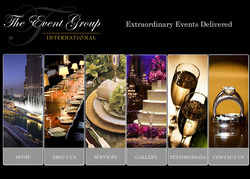 The development team over at AWD delivered a great design concept that was 'spot on' with our vision.
Manassas, VA (PRWEB) May 2, 2011
The top web designers at Affordable Web Design and Marketing, Inc. (AWD) have just launched a cutting-edge website for the internationally renowned event planning company, The Event Group International (TEGI). Using advanced technology and expertise with social media, AWD created the site to enable TEGI event planners based in the Washington D.C. metro area to collaborate securely and in real time with their customers anywhere in the world. Couples planning weddings in California, or Corporate retreat organizers in Florida can access real-time progress updates, collaborate with TEGI team members and share their vision with friends, family and co-workers from the website.
TEGI founder Tanya Wilbon says her team chose Affordable Web Design over other top web design companies because, "We wanted a blend of expertise, creativity, attention to detail, and exceptional customer service. The TEGI team found all of these qualities in Affordable Web Design. We can't say enough positive things about them and our experience." Wilbon explains that "The AWD team was always professional, patient, and courteous. They provided invaluable guidance and industry knowledge that we found priceless."
AWD's Hope Hall explains how AWD has become one of the top web design firms listed in the National Web Design Directory: "We're a Golden Web Award winner because we always go the extra mile to develop the best web site for every client. Our clients love AWD's work because we design websites they can be proud of." TEGI's Tanya Wilbon is certainly proud of the company's new website and has high expectations for its success. "The development team over at AWD delivered a great design concept that was 'spot on' with our vision."
Affordable Web Design specializes in interactive, database driven sites including CMS websites and e-commerce online stores. They focus on integrating their sites with social media marketing and other new technology to help clients reduce their marketing costs and put them ahead of the competition. AWD's Hope Hall explains, "We've developed hundreds of sites, including scores of complex, interactive custom sites that most other design companies couldn't even begin to build. And all of the work is done right here in the USA."
As AWD launches the new TEGI website, Tanya Wilbon is excited about how their new website will take their event planning business to new heights: "We look forward to a long and fruitful relationship with AWD and we highly recommend them."
Affordable Web Design and Marketing, Inc.
Web: http://www.affordablewebdesign.com
E-mail: sales(at)affordablewebdesign(dot)com
Toll Free: 1-800-929-8611
# # #