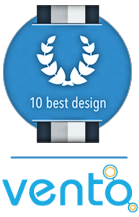 New York City, New York (PRWEB) June 13, 2013
In the arena of web design and development, competition is fierce. Electronic capability and internet presence are now absolutely vital. If businesses are to grow and maximize their potential both in terms of sales and exposure to new clients, a strong web campaign is essential. There are more web development companies and website design firms out there than ever before, many with creative ideas to support and enhance businesses. With so many companies, it is hard to identify a quality agency for a web development job. 10 Best Design identifies the best web development companies country-wide, analyzing them on a systematic basis and positioning them in a ranked list. The big picture in the best web development has never been clearer thanks to the awards they present.
10 Best Design's team is made up of individuals with real expertise in fields of online branding, search engine optimization and of course, web design. Consequently, they really know what they are looking for when assessing the abilities of different firms providing web design services. The review system they have developed takes into account a whole range of factors which together determine the success of a given company. Factors considered include web traffic, ranking data, SEO, user reviews, online and client research. The comparison and analysis of all these areas builds up a detailed view of how well the companies and performing and can inform the potential client like never before. It's unsurprising that the monthly 10 Best Design awards presented for overall excellence in web development are quickly becoming a nationally recognized standard to consider when businesses are searching for the best web development companies.
In the most up-to-date round of awards, that for the month of June, in 4th position in the overall web design category we find Vento Solutions, a firm with bases in both New York and San Francisco. They are an internationally-inspired company bringing influences and skills from all over the world, channeling them into making great websites for their clients. Vento Solutions consider the whole web package when developing a concept to meet its client's needs, including online marketing, functionality and compelling design. Whether a business is looking for strong web presence through SEO, effective ecommerce solutions for online retail or simply an attractive website to convert browsers to buyers, Vento has experience in making it happen. The abilities of Vento Solutions are made even more clear in the whole host of accolades which they have been awarded, not least of which is being ranked number 4 by 10 Best Design for best web development.
In their efforts to compare and analyze the best web development happening right across the country, 10 Best Design has built up a directory of companies from which its selections for awards are made. Web design firms are invited to submit applications to this directory and 10 Best Design considers whether they meet the demanding criteria to be included. Only after this careful assessment is a firm entered into the running to receive the design awards. It's evident then that a firm has to really excel in their field before even making it onto a list created by 10 Best Design, giving each wining company a prized stamp of approval.