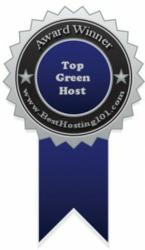 San Diego, CA (Vocus/PRWEB) February 23, 2011
BestSites, Inc. (http://www.besthosting101.com) has announced ASPnix.com as the Top Green Host. Innovative and environmentally friendly hosting services, products, great customer service and low prices has earned ASPnix, a leading Green web host provider, with this coveted title.
With a variety of web hosting plan available, ASPnix works to provide customers with the best plan to fit their web hosting needs. With the beginner plan, for just $3.77 per month, you can take advantage of a variety of features ASPnix has to offer including 10 GB of raid protected disk space, unlimited bandwidth and unlimited subdomains. Other features include 2 GB database size, unlimited Microsoft access databases, 10 email mailbox accounts, 30 GB -mail disk space, 20 MB email attachment size and free email forwarding. With such a long list of features run through green energy efforts, it is no wonder ASPnix was selected to receive BestSite's award for Top Green Host.
ASPnix.com stays green by using low power servers and power consumption to help conserve daily energy. Using green technology like VPS systems to help combine all servers onto one server location is another way ASPnix works to provide customers with a green product. The ASPnix data center located in Colorado runs on purchased wind energy, which operates the equipment including servers, colocation centers and HVAC units. ASPnix plans to continue increasing its green energy efforts as the best web hosting company continues to expands its operation. ASPnix.com also boasts reliability and fast service through its highly efficient network, which is rated at the top in the industry among other web host competitors. By partnering with one of the most advanced network companies in the world, ASPnix and Level3 Communications works together to give customers the fastest speeds and best connections available. ASPnix started out as a small web hosting company, but quickly grew to become one of the top web hosting providers in the industry. Targeting the green market has helped ASPnix continue to grow and expand to serve more and more individuals and business owners looking to expand their operation successfully online. ASPnix keeps its customers happy with a large variety of features and services for an affordable price and great dedication to customer support. Conveniently, ASPnix also offers a free trial use for those looking to try out the services and features offered by one of the best web host providers on the web. The free trial package includes 1 GB of raid protected disk space, unlimited bandwidth, five professional email accounts, anti-virus/spam filters with FTP access and MySQL Database for all your blogging needs.
About BestSites, Inc
BestSites, Inc is a small company formed of a group of Internet entrepreneurs with over 10 years of experience in Internet based information and technology. The staff at BestSites strive hard to continually work to provide readers with the most accurate and up-to-date knowledge and experience about web hosting and other Internet-related information with the online business community.
# # #