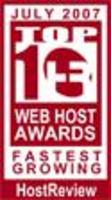 Suwanee, GA (PRWEB) September 14, 2007
Across the nation, Americans may be resorting to gastric bypass surgery and weight-loss drugs in an effort to battle the bulge, but one American business is beefing up by the minute -- and is proud of it. Fat Jack Hosting has just gotten a little fatter thanks to some notable recognition from HostReview.com. The Web hosting directory and search engine has just lauded Fat Jack Hosting with a "Top 10 Fastest Growing" award. Fat Jack is basking in this glory and eating up its newfound fame. Web site owners who are curious about what characteristics have enabled Fat Jack to become one of the most rapidly expanding Web hosts can do so online at http://www.fatjackhosting.com/.
Handed out on the basis of the speed by which they are prospering in both size and prestige, the Fastest Growing awards are intended to showcase the best companies the Web hosting community has to offer. Including both new companies and established companies that are making a foray into the Web hosting arena, the Fastest Growing awards are not handed out to just any old hosting provider. Indeed, only ten such companies make the cut. Cracking the top ten with a fifth-slot placement, Fat Jack Hosting is securely entrenched at the pinnacle of the heap.
What makes this award all the more thrilling for Fat Jack is that in its current incarnation, the company has only been in business for seven months, making its rapid growth all the more impressive. Joining the ranks of Canada Web Hosting, which was founded nearly a decade ago, and the six-year-old Exabytes Network is indeed a boost to the ego for Fat Jack Hosting and its hosting subscribers.
"We and our existing customers already knew our hosting capabilities were on par with or superior to many of our longer-standing competition, but now the rest of the world knows it too. To have grown this quickly, this fast, and to have that growth recognized by a Web hosting power player like HostReview.com is an industry acknowledgement like no other," says Fat Jack spokes person, Nicole Sliverstone.
Specializing in Web hosting solutions for small businesses, entrepreneurs and Internet marketers, Fat Jack Hosting takes customer service seriously, which may explain why it's a top-ten "Fastest Growing" Web host. The company offers its clientele 24/7 support and some of the best Internet hosting tools available on the worldwide Web.
For more information on Fat Jack Hosting's "Fastest Growing" Web host status, contact Stephanie Bunn at (770) 271-1536. To see how Fat Jack Hosting has ascended the Web hosting echelon so quickly, visit the company online at http://www.fatjackhosting.com/.
CONTACT INFORMATION:
Stephanie Bunn
2935 Horizon Park Drive, Suite D
Suwanee, GA 30024
(770) 271-1536
http://www.fatjackhosting.com/
# # #