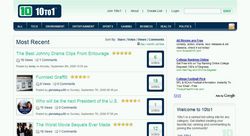 There is a lack of order and authority online. It is hard for users to get trustworthy information searching through the billions of pages found on Google and Yahoo!. The user generated content and unbiased opinions found on 10to1 help users to find the best information based on collective user's consensus and it aids in discovery of items that they may not have considered before
Phoenix, AZ (PRWEB) September 9, 2008
10to1.com, a technology company pioneering a new way to organize data and create collaborative authority, unveils its ranked list voting site offering. The site allows users to create, vote and comment on lists for any category. Categories include tech, environment, entertainment, sports, gaming, business, health and politics.
The process is simple. Each user-generated list, from 1 item to 101 items, will begin as one person's opinion of a ranked list. The user community will then build and shape that list through voting, comments and adding new items which creates a consensus of the best version of that list.
"There is a lack of order and authority online. It is hard for users to get trustworthy information searching through the billions of pages found on Google and Yahoo!. The user generated content and unbiased opinions found on 10to1 help users to find the best information based on collective user's consensus and it aids in discovery of items that they may not have considered before," said Korey Bachelder, President of 10to1, Inc. "We took a look at Digg and saw that people love to offer their opinions by voting and commenting. We decided to take the idea and make it better by creating order, ultimately creating winners in every category."
Why Lists?
10. Easy to digest and remember
9. Encourage debate
8. Creates order
7. They will spread and be shared
6. Easy to write
5. Insightful and interesting
4. They aid discovery
3. People love stats
2. They assert authority
1. Lists are interesting!
10to1.com is a website destination that allows users to create, comment and vote on lists for any category. The lists become more powerful and resourceful with each vote as users collectively create the best list based on individual opinions. The company is headquartered in Chandler, Arizona.
###