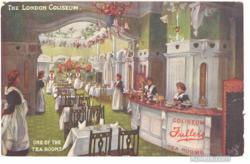 Cleveland, OH (PRWEB) September 14, 2012
Every month, the Kovels.com Top 10 list indicates the interests of the collectors who visit the website. During August 2012, antique enthusiasts were busy researching:
1. Postcards
2. Insulators
3. Bottles
4. Occupied Japan marked items
5. Coca Cola
6. Dolls
7. Clocks
8. Bavarian pottery and porcelain
9. Red Wing pottery
10. Firefighting apparatus
There are three categories new to the Kovels' Top 10 list—postcards, insulators and firefighting apparatus. Postcards top the list, perhaps sparked by the news of an exhibit opening at the Museum of Fine Arts in Boston on Oct. 24, 2012. "The Postcard Age" will feature about 450 American and European postcards. Postcards became legal in the United States in 1872 and were collected right from the start. Most of the picture postcards collected today date after 1910. They're still sought by collectors who focus on themes like travel, early automobiles and airplanes, holidays and history, or, like the museum, view them as art. Vintage postcards sell for 25 cents to over $100, depending on subject matter, condition and rarity.
Insulators, at No. 2, are also new to Kovels' Top 10 list. Glass or pottery insulators were used on telegraph and telephone poles starting in 1844. There are serious collectors who pay hundreds or even thousands of dollars for rare insulators, but some collectors are using old insulators as household decorations. Clever ideas include using the glass for paths, for parts of walls or as shades for hanging light fixtures. Insulators can be found at bottle shows, flea markets or on the ground. Insulator prices range from free to hundreds of dollars each.
Firefighting apparatus is No. 10. Word must be getting out about the Oct. 5 - 7 auction by Showtime Auction Services in Ann Arbor, Mich., of a large private collection of firefighting memorabilia. Collectors want to know historical prices. Firefighting collectors look for leather fire helmets, buckets and other equipment, fire trumpets, nozzles, alarm boxes, engine lamps, toy fire vehicles, shields, ribbons and medals and pictures of fires.
Collectors who search Kovels.com always want to know more—about descriptions, marks and prices. Kovels.com and "Kovels' Antiques and Collectibles Price Guide" list thousands of prices in hundreds of categories that are carefully selected, edited and current.
About Kovels.com
Kovels.com, the online portal for Kovels' Antiques, provides collectors and researchers with up-to-date and accurate information on antiques and collectibles. Kovels' Antiques was founded in 1953 by Terry Kovel and her late husband, Ralph. Since then, Kovels' Antiques has continually published some of America's most popular books and articles about antiques, including the best-selling "Kovels' Antiques and Collectibles Price Guide," now in its 45th edition. The Kovels' website, online since 1998, and free weekly email, "Kovels Komments," give readers a bird's-eye view of the market through up-to-date news, auction reports, an online Price Guide, a Marks Dictionary, readers' questions with Kovels' answers, and much more.
Contact info:
Liz Lillis
216.752.2252
pr(at)kovels(dot)com