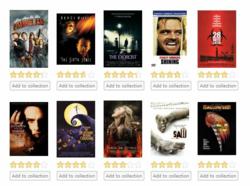 Zombies, vampires and serial killers have all earned their spot on the top list of horror movies.
New York, NY (PRWEB) October 16, 2012
As Halloween approaches it's the perfect time to gather with friends and family to watch movies that are some of the most terrifying films ever made. Zombies, vampires and serial killers have all earned their spot on the top list of horror movies recently released by the online movie community, Filmbuffet.
From psychological thrillers to comedic horror films, movie fans can keep track of the scary movies they've seen, rate films and write reviews on the movie social site, Fimbuffet. "Our list of horror flicks highlights some of the most popular horror movies on our site," states Timothy Stevens, CEO of Filmbuffet.
The most popular horror films on Filmbuffet include:
Zombieland (2009) – A film for zombie lovers. A mix of flesh-eating horror and a classic boy-meets-girl romance blend together to create an entertaining, gory watch. This horror flick stars Jesse Eisenberg, Woody Harrelson and Emma Stone and perfectly combines moments of pure terror with moments of comedy.
The Sixth Sense (1999) - Another must watch movie for Halloween is this psychological horror film featuring Malcom Crowe (Bruce Willis) as a child psychologist dealing with a very unhappy ex-patient. He has a chance for redemption with a haunted boy who"sees dead people" played by Haley Joel Osment. The film was nominated for 6 Oscars and seamlessly blends horror, action and drama together making it one of the most popular horror movies on the movie social site, Filmbuffet.
The Exorcist (1973) – One of the most scary horror films, The Exorcist provides the perfect depiction of good versus evil. The winner of two Oscars, the movie follows a mother who attempts to save her daughter who is possessed by an evil entity.
The Shining (1980) - A horror movie based on the 1977 Stephen King novel of the same name and directed by Stanley Kubrick follows a family visiting a hotel occupied by evil and spiritual presences.
28 Days Later (2002) – Terror combined with moments of pure sadness, emptiness, and helplessness await in the film following a handful of survivors from a mysterious virus that spread through the U.K.
Interview with the Vampire (1994) – Nominated for two Oscars, the horror movie follows the life of a vampire (Brad Pitt) telling his epic life story of love, betrayal, loneliness and hunger.
Drag Me to Hell (2009) – A horror flick that shows the power of one bad decision follows a woman loan officer who refuses to extend the time of a loan to an older woman who in turns issues a hellish curse on her.
Saw (2004) – A clever, yet disturbing movie with plenty of blood and gore to keep movie fans on the edge of their seat makes this an ideal film to watch on Halloween.
Halloween (1978) – Haunting musical scores add to the scare factor of this classic horror film taking place on Halloween night when a psychotic killer, Michael Myers breaks out of a mental institution to kill and terrorize the town.
The Nightmare Before Christmas (1993) – Nominated for an Oscar and written by Tim Burton, this Jack Skellington directed film is a visual masterpiece and an entertaining watch on Halloween for movie fans of all ages.
Whether a fan of ghosts, goblins or murder-filled flicks, movie fans are invited to join Filmbuffet to rate, review and keep track of their favorite horror films. Film enthusiasts can join for free using their Facebook ID or by creating a unique member ID. Once signed up, members can keep track of the movies seen or the films they plan to see, start or join a movie group, rate movies, and meet others who share their passion in film.
About Filmbuffet
Headquartered in New Vernon, New Jersey, Filmbuffet brings movie lovers the first social networking and movie cataloging site of its kind. With a blend of talent, ingenuity and business savvy, founders Timothy Stevens and Juan Carlos Martinez brought their creativity and expertise together to bring a new experience to movie fans everywhere. Filmbuffet invites movie fans to build their own virtual movie catalog and connect with other movies fans about the films they're passionate about. To learn more, visit Filmbuffet.