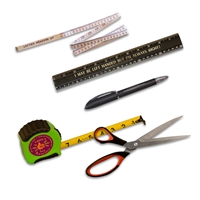 San Francisco, CA (PRWEB) November 29, 2012
Thelefthandstore.com presents the 12 best left-handed gifts for 2012. Each year thelefthandstore.com polls their customers and reviews their sales to find the 12 most popular left-handed gifts for the year, then presents the 12 Top Gifts for 2012 on the website.
At its retail stores Lefty's San Francisco and Lefty's at Walt Disney World Resorts in Florida, the store's left-handed staff demonstrates products and learns a great deal from customer feedback. Often satisfied customers write to the store about their purchases, and others review products on the site. From the sales of its rapidly growing website, Lefty's reviews the trends in on-line buying. By constantly improving its product line and pricing, Lefty's is able to offer new and better gifts and gift sets each year.
Thelefthandstore.com has developed an extensive collection of very popular left-handed cooking utensils. Included in the Top 12 Gifts are the 9 Piece Left-Handed Master Chef Set ($150), the 3 Piece Left-Handed Knife Set ($68), and the 6 Piece Left-Handed Kitchen Starter Set ($35).
Scissors are the most sought after left-handed tools, and thelefthandstore.com has the world's largest selection. For left-handers who like to sew, the Top 12 includes the 5 Piece Deluxe Left-Handed Sewing Set ($95).
For left-handed gardeners, an all time favorite gift is the Deluxe Left-Handed Garden Gift Set ($100). For lefties who work in offices, the Top 12 Gifts includes a beautiful hand-tooled leather portfolio as part of the Executive Office Gift Set ($195) as well as the Executive Embossed Left-Handed Portfolio ($32).
The most useful tools for any left-hander to have around the house are all together in the 5 Piece Left-Handed Household Tools Set ($40).
Great gifts for young lefty kids include the Learn to Tie Left-Handed Plus 2 Bonus Scissors Set ($15) and the 8 Piece Left-handed School Supplies for Kids Under 8 ($22). Older kids find the 7 Piece Left-Handed Complete College Set ($25) to be a life saver.
For those who prefer to let their lefty friends and relatives browse thelefthandstore.com site to select their own most favorite items, a wonderful idea is a Lefty's Gift Certificate, available in any amount.
Thelefthandstore.com has the world's largest and most interesting selection of left-handed items. If nothing from the Top 12 Gifts is exactly right, there are literally hundreds of other items to choose from. On the home page, thelefthandstore.com features special Holiday Gift Collections, including Gifts for Lefty Chefs, Gifts, for Lefty Kids, and Lefty Office Gifts. Other very popular collections are Lefty's Luxuries and Fun Stuff.
If a useful left-handed product exists, it can almost certainly be found at thelefthandstore.com. Visit Lefty's retail stores: Lefty's San Francisco at Pier 39, and Lefty's at the Marketplace in Downtown Disney, Walt Disney World Resorts, Orlando, FL and Old Town Kissimmee, FL.