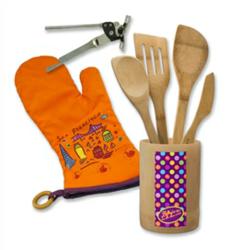 San Francisco, CA (PRWEB) November 28, 2011
From the world's largest selection of left-handed gifts and tools, leftysthelefthandstore.com selects the 12 Best Gifts for Left-Handers from the 2011 product line. With gift sets of all types (for kids, cooks, gardeners, and much more), personal items like manicure sets and watches, sets with Lefty sayings or left-handed household tools, left-handed calendars and gift certificates, the Top 12 Gifts for Left-Handers has something every Lefty will love!
For lefty kids, the very popular Left-handed Back to School Wide Ruled Notebook Set or the Essential Left-Handed School Supplies for Kids Under 8 - Blue/Green (also available in Pink/Purple) both include custom Lefty's pencil case (shaped like a pencil), left-handed kids' scissors, 2 Lefty's pencils with grips which make it very easy for young lefties to write, and a left-handed ruler. One set comes with Lefty's custom writing tablet, and the other with 4 custom Lefty's wide-ruled notebooks. Both of these sets, new in the Fall, have been incredibly popular.
For Left-Handed Cooks, leftysthelefthandstore.com has several sets of the best selling Left-Handed Kitchen tools. The Top 12 List includes the Lefty's Left-Handed Deluxe Kitchen Tools 9 pc Set, a terrifically useful set with 4 of Lefty's custom bamboo cooking tools, a left-handed can opener, left-handed kitchen shears, ambidextrous peeler, and custom Lefty's left-handed cooking mitt.
For the Lefty who is "Proud of It", the Deluxe I May Be Left Handed But I'm Always Right Set includes items every lefty can use custom printed with the best selling lefty saying. Included are T-shirt (available in several sizes), a Lefty's signature left-handed dribble mug (only lefties can drink from it), a left-handed ruler, notepad, and 2 pencils.
Two of Lefty's True Left-Handed Watches are included in the Top 12 List. These watches have the stem on the left so lefties can wear them on their right wrists. Choose between Lefty's sporty custom Left-Handed Watch with Brown Leather Band and Rose Gold Case, or the incredible Invicta Left Handed Terra Military Black Chrono Watch, with 4 dials and a host of high tech features.
Every lefty needs a few household tools. Lefty's Household Left-Handed Tools Set includes the indispensable custom left-handed tape measure and tailor's tapes, soft-grip left-handed scissors, with a jetstream pen with fast-drying ink and a ruler that reads from right to left.
Lefty's Logo Manicure Set with Right and Left-Handed Nail Scissors solves that perennial nail scissor problem of how to cut the nails on the other hand. This set includes both left and right-handed nail scissors! A great gift for righties as well as lefties.
Does your lefty love gardening? The Deluxe Left Handed Garden Gift Set is the ultimate gardening set with the all-time favorite Felco Left-Handed pruner, Clauss Left-Handed Florist's shears, a Jetstream quick-drying pen and a left-handed gardening notebook with the spiral binding on the right.
Lefty's brand new custom Deluxe Calligraphy Set with Instruction and Sketch Books is a wonderful gift for the artistic lefty who likes to make things by hand.
The amusing and delightful Left-Hander's 2012 Calendar makes great reading in addition to being very useful.
Last, and perhaps best, is Lefty's Gift Certificate! Send this certificate, available in any amount, to your favorite lefty, and let them tour the website, choosing from hundreds of left-handed products, on their own.
Visit the store online at http://www.leftysthelefthandstore.com, or visit in person at Pier 39, San Francisco, the Marketplace at Downtown Disney, Walt Disney World Resorts, Orlando, FL, or Old Town Kissimmee, FL.
# # #