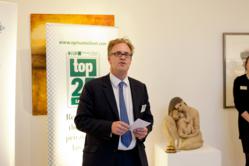 I'm so pleased that we have built on the success of the Top 25 initiatives
London (PRWEB UK) 9 May 2013
On 29 April 2013, Wendy Marston Events organised a successful champagne reception for Private Client Practitioner's Top 25 Law Firms, with fabulous attendance amongst the senior executives in the industry.
As part of Private Client Practitioner's Top 25 series, Top 25 Law Firms initiative is designed to identify, recognise, introduce and promote the Top 25 Private Client Law Firms. PAM Insight, the company behind the initiative, surveys approximately 125 private client law firms and the Top 25 is based on data received on areas such as number of partners, number of fee earners, total number of staff and total fee income. The champagne reception is designed to introduce the senior and key members of staff from the Top 25 Law Firms, winners of the Top 35 Under 35 Private Client Practitioners, the 50 Most Influential Private Client Practitioners and the PAM Awards Judging Panel.
Wendy Marston Events is a specialist event planner, focusing on the organisation of awards programmes and their associated receptions, dinners and meetings, from small roundtable breakfast meetings to gala award dinners. Wendy Marston, founder and director, has been managing the PAM Awards for PAM Insight, the company behind Private Client Practitioner, for over 10 years, and in 2012 has took over the organisation of their remaining suite of awards and events.
"I'm so pleased that we have built on the success of the Top 25 initiatives, year on year, and hope that we can continue to have a positive impact on how the industry views these important initiatives," says Wendy Marston, founder and director.
Gallery Different was the setting for this year's reception, a departure from past events, and was hugely successful in offering a contemporary event space, with the Exhibition "Tender" - From Another Place, featuring exclusively female artists working in paint, textiles, sculpture and photography.
Catering was provided by Mari Taylor and included Cream Cheese Roulades with Fresh Herbs and Mini Sun-dried Tomatoes; Fillet of Beef, Beetroot & Horseradish Tartlets; Smoked Salmon Blinis with Dill & Crème Fraiche; Baked Brioche with Fois Gras with Red Chilli Jelly; Chicken with Satay Sauce; Sausages in Honey & Mustard and Mini Pavlovas with Cream & Blueberries. The champagne was Louis Roederer Brut NV. Photographs were taken by Simon Hargrave. Brief speeches were made by Ed Hicks, managing director of PAM Insight, and Kate Leppard, head of private clients of sponsor Schroders Private Banking, and plaques produced by Awarded2U were later handed out to the winners.
Companies interested in improving the return on their events and awards programmes can contact Wendy Marston at Wendy Marston Events at http://www.wendymarstonevents.com.