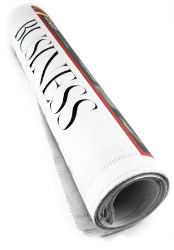 If you are a tech-savvy entrepreneur or small business who promotes your brand using Instagram, ALL OF THIS APPLIES TO YOU.
(PRWEB) January 15, 2013
The world did not end, as some suspected it would, and United States did not fall off the foreboding "cliff", but there was still plenty going on in the technology industry, especially when it comes to small business. ChooseWhat.com, the online resource for entrepreneurs and start-ups, brings you the latest events in technology and how they apply to small business owners.
The Cliffhanger:
1. The biggest news affecting small businesses this past month was the "Fiscal Cliff" and subsequent 11th hour deal. This compromise ended up raising an estimated $600 billion in new revenues over the next decade by increasing tax rates on annual incomes over $400,000 ($450,000 for couples). However, many of the richest people in the country don't have much to worry about since those living off interest on investments (which is considered capital gains, not income) is only taxed at a 15-20% rate. Even many people who benefit from this loophole want to end it because it is so incredibly imbalanced. (via TechCrunch)
How this applies to you: As a small business owner, entrepreneur, or any other wage-earning American the money you live on is being taxed at a much higher rate that of the so-called "idle-rich," the ones living off capital gains. This not only keeps small business owners from making enough to reach a comfortable income plateau, it helps keeps the idle-rich up there.
2. Instagram Did What?!:
Although it was widely reported last month that Instagram's new Terms of Service (ToS) included the stipulation that it would be able to sell any photo's without compensation, founder Kevin Systrom later declared to remove that language. However, the more dangerous verbiage in these ToS is the fact that it effectively blocks class action lawsuits, stops you from opting out of certain privacy-related settings, and if you're under 18 by agreeing to the ToS you are asserting that your parent or guardian has read them too. (via Reuters)
How this applies to you: If you are a tech-savvy entrepreneur or small business who promotes your brand using Instagram, ALL OF THIS APPLIES TO YOU. Be sure to know what you are affirming with any new Terms of Service, especially companies like Instagram whose parent company (Facebook) is well-versed in legal battles. They might do almost anything to keep from going back to court.
3. Green Resolutions:
A great way to start out the New Year is to come up with business resolutions on how to operate more efficiently than in the past. Also, as businesses become more horizontally structured, responsive management teams look for worthwhile ways to involve all of their employees into more aspects of their company. An easy and effective avenue to advance both of these objectives is getting your employees involved in making your business more environmentally friendly. (via SmallBizTrends)
How this applies to you: When getting suggestions from your employees about environmentally friendly, "green" resolutions, also see if those with the ideas would like to form a "Green Team" to be in charge of these efforts. Make sure they align the initiatives with your business and its end-goals as well as conduct proper research and analysis of the time and effort it will take to accomplish each project. Here are 8 Easy Ways Your Office Can "Go Green".
4. The Graphic Magic of Symbolset:
A major challenge for most small businesses when developing their web properties is finding eye-catching, yet affordable graphics to supplement text. Sifting through loads of outdated clipart is tiresome and hiring an illustrator to create simple images and icons can get expensive. This is where Symbolset comes in. Symbolset is "a collection of typefaces that let you generate [images] by simply typing a word." Since every image is really just text covered up with a symbol, search engines and screen readers can automatically read and understand the meaning of each icon added with Symbolset. (via FastCo.Design)
How this applies to you: Once you buy a license to use the typeface (ranging in price between $5 and $60) all of the symbols are yours to do with as you wish. Symbolset even has a tips section on their site showing you how to implement different styles and edit the icons for various effects. If you still need to build your company's website, ChooseWhat reviews of some of the top online website builders available on their website.
5. A Neighborly Network:
The brand new (and completely free) private online social network called Nextdoor aims to reverse the trend of people becoming less and less connected with their neighbors. Since it seems that in this day-in-age people are more comfortable "rubbing elbows" online than in person, this would seem the perfect solution to the problem. Once a part of the network, the interface allows you to connect with neighbors, share recommendations and crime/safety tips, as well as post events and items you are looking to buy, sell, or give away. (via Slate)
How this applies to you: If you run a brick-and-mortar store and with a lot of local customers, encouraging them to sign up for this network can help you spread the word about your business through the "Recommendations" feature. And if you're an entrepreneur working from home, meeting some more of your neighbors can be beneficial for many reasons including improving your networking prowess.