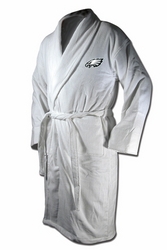 Every year one item seems to take off at the start of November. This year was no different
Grand Island, NY (PRWEB) November 10, 2010
Johnny Lew's Sports, announced today the top 10 trending items for this year's Christmas gift giving. Maybe you haven't heard of Johnny Lew's Sports, a Professional and College Sport Team internet sports retailer. Run by an Air Force Reservist the business is growing fast. Learn more about this innovative retailer and intriguing story at http://www.JohnnyLew.com
This year there is a clear cut winner on the top item to give. The winner is the NFL Bathrobe and MLB Bathrobes. "Every year one item seems to take off at the start of November. This year was no different," said John Lewandowski, President of Johnny Lew's Sports. Last year it was the NFL Beer / Ice Buckets. This year it is the bathrobes.
Here is the complete list:
1. NFL Bathrobes
2. MLB Bathrobes
3. NFL Gift Baskets
4. NFL Beach Towels
5. MLB Flags
6. MLB Gift Basket
7. MLB Beach Towels
8. NFL Mini Helmets
9. NFL License Plates
10. NFL Flags
Based upon the sales from this week it looks like sports fans are going to be giving this year, more than last. Lewandowski stated. "We are seeing an uptick in sales! Great for us and hopefully a reflection on a recovery economy".
About Johnny Lew's Sports
Johnny Lew's Sports is owned and operated by an Air Force Reservist who prides himself on serving the country and serving this country's sports fans. Johnny Lew's is growing fast! Conduct a search for "NFL Towels" on Google and see that they claim the top spot. You may have never heard of Johnny Lew's Sports, but you soon will, they take care of their customer and love sports just as much as the fans who are their customers. Read about how Johnny Lew's was conceived while John Lewandowski was on deployment in Afghanistan, read complete story here.
###