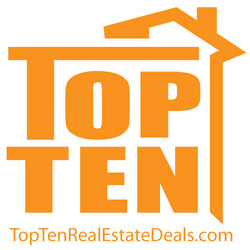 I welcome you to Phoenix, the land of some of the best real estate deals in the country.
(Vocus) August 16, 2009
TopTenRealEstateDeals.com has recently updated their Phoenix, Arizona Top Ten Real Estate Deal List. The updated list comes in response to the overall site's larger exposure through features on CNBC.com and AOL's ShelterPop.com.
The Phoenix list features the 10 best deals on Phoenix homes and condos for sale. Specifically, the Phoenix Top Ten list market coverage includes Phoenix, Scottsdale, Mesa, Gilbert, Maricopa, Chandler, Glendale, and Tempe.
According to Amy Jones, the Top Ten Phoenix Concierge Agent, "It's old news that the Phoenix real estate market has been pretty hard hit over the last few years. This has created some incredible opportunities for buyers in our area. Just about anyone who has ever dreamt about owning home in the Valley of the Sun, can probably now find a home to fit their budget, from bungalows for under $75,000 to mountainside mansions at half their original price!"
Recognized as a Phoenix real estate guru, Amy was named one of Phoenix's Top 50 Real Estate Agents by the Phoenix Business Journal.
"After much research, my Top Ten Real Estate Deals are offered from a variety of different brokerages and represent some of the most sought out areas and amenities in metro Phoenix, from golf course properties and downtown urban lofts to Active Adult Communities and homes that are simply priced so low, you'll think it's a misprint. " said Amy. "I welcome you to Phoenix, the land of some of the best real estate deals in the country."
To view the Phoenix Top Ten Real Estate List visit:
http://www.toptenrealestatedeals.com/luxury_real_estate/condos/regional/phoenix/
This list is a welcome addition to TopTenRealEstateDeals.com's already extensive list of regional markets and its weekly Real Estate Top 10 list of national deals mainly in 'hot spot' markets in the United States.
For further information, or to request an interview with a company representative, please contact their Internet Marketing Director, Jason Wakefield at press (at) toptenrealestatedeals (dot) com.
Contact:
Jason Wakefield
Internet Marketing Director
TopTenRealEstateDeals.com
574-204-2295
press (at) toptenrealestatedeals (dot) com
###