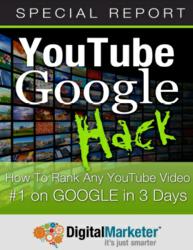 Statistics point to a tremendous video shift on the web, and businesses have the potential to tap into that shift before it reaches critical mass.
Austin, TX (PRWEB) April 17, 2012
Marketers can get to the top of Google search results by flexing their marketing muscles and teaming up with the biggest website there is. If they follow the advice in Digital Marketer's latest Special Report, they'll gain the advantages of a killer Internet presence. Today's DigitalMarketer.com article said it makes it easy to sell products on YouTube because it boosts video search results into the stratosphere.
Statistics point to a tremendous video shift on the web, and businesses have the potential to tap into that shift before it reaches critical mass. If they learn and test viable strategies now, the article said they'll pass their competitors by in no time.
That's why Digital Marketer has published its latest Special Report, "YouTube Google Hack: How to Rank a YouTube Video Number One on Google in Three Days." It's the step-by-step procedure for joining with the top two audiences ever available to businesses. People can instantly get free targeted traffic with a well-planned video upload.
Google is helping people get connected to the products and information they are interested in more quickly and efficiently, said the article. Those same principles are behind the benefits of creating a YouTube video.
Once an idea for a video is thought of, the article said "YouTube Google Hack" gives the best practices for marketing with the video sharing site. It shares the three best affiliate marketing strategies seen on YouTube, and the seven-step sequence for creating a winning video. There are also eight video types that are proven to generate traffic, attention, and sales, and they're all available in the Special Report.
After a video is created and uploaded on YouTube, listing optimization tips from Digital Marketer take them to the next level. There's four innovative ways of manipulating the description of a YouTube video, and "YouTube Google Hack" shares them all.
The best part is how quickly marketers can use the strategies in the Special Report to transform their business into the ultimate authority in its specific field, said the article. Imagine the impact of free targeted traffic and a number one ranking in Google searches.
Digital Marketer provides entrepreneurs with the information and confidence to create powerful marketing strategies. Its cutting-edge techniques have produced sales increases and magnified recognition for a multitude of business types. It releases Special Reports like this one, as well as other educational courses and materials to its subscribing members. Join DigitalMarketer.com's membership program and gain access to this Special Report and the rest of what Digital Marketer offers.
Quit relying on traditional sales channels that lead to nothing but dead ends. Access the ultimate guide to Internet marketing. When videos arrive at the top of Google search results, there's no doubting the amazing advantage that gives the makers of that video.