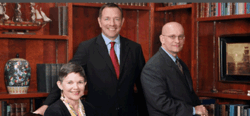 "We became concerned over the many media reports about suicide by LGBT youth." - Jeff Cleghorn, Kitchens New Cleghorn, LLC
Atlanta, GA (PRWEB) August 06, 2012
ATLANTA - In light of rising suicide rates among gay and lesbian youths across the nation, Atlanta's top gay-inclusive law firm Kitchens New Cleghorn, LLC is hosting an Aug. 16 mixer designed to introduce the community to The Trevor Project - a national campaign providing crisis intervention for LGBT teens and young adults.
The event is scheduled from 6 to 8 p.m. in Ansley Park. Guests can RSVP at http://www.thetrevorproject.org/ for more address information.
The event has been dubbed a "friendraiser" - a social gathering meant to introduce members of the gay Atlanta community to the group, explain its cause and encourage more local participation. Attendees will meet members of The Trevor Project as well as attorneys from Kitchens, New, Cleghorn, LLC.
Project Sheds Light on Risk Facing Gay Atlanta Teens
The Trevor Project has spent more than a decade as a resource for gay and lesbian youth in need of life support. The project includes the nation's only 24-hour suicide prevention line for suicidal gay and lesbian youth, an online support network and other web-based support systems.
The Los Angeles-based effort is named after the 1994 Academy Award-winning short film, "Trevor," a comedy/drama about a gay 13-year-old boy who decides to commit suicide after his friends reject him for being gay.
Law Firm Maintains Record of Support for Gay Atlanta Causes
KNC's partnership with The Trevor Project grew from the firm's concern with the future of gay Atlanta youths. Media reports concerning youth suicide led attorneys Joyce Kitchens, Randy New and Jeff Cleghorn to seek ways to help.
"We became concerned over the many media reports about suicide by LGBT youth," said Kitchens New Cleghorn, LLC partner Jeff Cleghorn.
The August event is one of several efforts the firm has led to increase LGBT tolerance, including recent forums outlining powers of attorney, second-parent adoption and many other legal protections existing for gay Atlanta couples. The firm also was recently named 2012 Best Law Firm in Atlanta by the GA Voice, a gay Atlanta publication serving thousands of gays and lesbians statewide.
For more information about Kitchens New Cleghorn, LLC, visit http://www.gadivorcelitigators.com or http://www.gadivorcelitigators.com/atlanta-gay-lawyer.htm. Additional information about the firm is also at http://www.gadivorcelitigators.com/faq.htm.