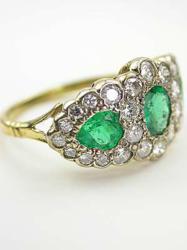 CBS's ban on revealing outfits brought out some of the most spectacular earrings, necklaces, bracelets and rings the Grammy Awards have ever seen.
Atlanta, GA (PRWEB) February 14, 2013
With CBS forcing a dress code on this year's Grammy performers, nominees and presenters, music's elite had no choice but to showcase their assets with jewelry and accessories rather than revealing outfits. Antique jewelry boutique Topazery celebrates that shift in focus by hand-selecting two pieces from its collection that closely match the Grammys' best of the best jewelry: an emerald ring like Kelly Rowland's and onyx earrings like Alicia Keys'.
Four days prior to the Grammy awards ceremony, the network airing the broadcast, CBS, issued an internal memo that, among other codes of dress, begged, "Please be sure that buttocks and female breasts are adequately covered". Other attire prohibited by the notice included "thong-type costumes" and "see-through clothing." While a few celebrities like Jennifer Lopez and Katy Perry pushed the envelope, the vast majority of music's hottest stars merely shifted their focus to their jewelry and accessories rather than treating the memorandum as a personality-expressing killjoy.
"That need for a new form of expression brought out some of the most spectacular earrings, necklaces, bracelets and rings the Grammy Awards have ever seen," says Jan Walden, Topazery's spokesperson. Two of the pieces that really caught Walden's eye were Kelly Rowland's emerald ring and Alicia Keys' onyx earrings.
Fresh off her Destiny's Child reunion at the Super Bowl, Rowland "had to find her own way to dominate the conversation" as she walked the Grammys red carpet, VH1 pointed out. The music TV channel followed that statement up with "We think this massive emerald ring (that Rowland wore) does the trick."
Topazery's Walden thinks so too. That's why her first Grammy spotlight piece is an antique emerald ring with scalloped design. Kelly Rowland's ring had the same gorgeous green emerald and scalloped detailing," she explains.
Rowland, however, wasn't the only Super Bowl alum heating up the Grammys. Alicia Keys also found herself quickly having to follow up her much-talked-about "Star Spangled Banner" performance. To draw attention to herself, she chose a pair of black and white swirl earrings with metallic snakes slithering around black onyx stones.
Topazery's second spotlight piece embraces this onyx/metallic combination with a pair of Art Deco Onyx antique earrings. They feature neck-grazing teardrop onyxes similar to the ones Keys sported.
For more information on drawing music-star attention without being overly revealing, contact Jan Walden at (678) 528-8901. To browse Topazery Jewelry's full line of Grammy-worthy earrings, rings, bracelets, necklaces, pins and brooches, visit the company online at http://www.topazery.com/.