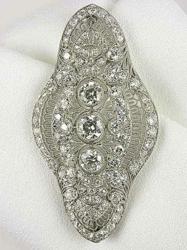 No matter her wardrobe budget, every woman deserves to look like an Academy Award nominee.
Atlanta, GA (PRWEB) February 27, 2013
Although she didn't walk away a winner, one of the most talked-about attendees following Sunday night's Academy Awards ceremony was supporting actress nominee Helen Hunt. And she stirred that Hollywood buzz with a decidedly un-star-like style choice: pairing diamond jewelry with (gasp!) a dress audience members watching at home could buy at their local mall. Antique jewelry boutique Topazery endorses that red carpet decision by spotlighting two diamond pieces like the ones Hunt selected to accessorize with: antique style diamond studs and an attention-grabbing diamond brooch.
With four Golden Globes and one Oscar already decorating her shelves, actress Helen Hunt likely had dozens of high-end fashion designers clamoring to get her in one of their creations for Sunday's Academy Awards ceremony. Instead of taking them up on their offers, Hunt, who was up for nomination as Actress in a Supporting Role for "The Sessions," chose to wear something from her own closet instead. And in a nod to every woman, that style choice just happened to be an evening gown that she bought off the rack at mass retailer H&M.
The strapless, navy blue gown Hunt selected to walk the red carpet in might have made her one of the more forgettable celebrities of the night if not for her enviable taste in accessories. The starlet opted to draw attention to herself with $700,000 of diamond jewelry that included stud earrings and the addition of "a Martin Katz diamond brooch to the back of the dress," People magazine's StyleWatch reported. The strategy worked too, with all of Hollywood now abuzz about her style choices.
Antique jewelry boutique Topazery believes that no matter her wardrobe budget, every woman deserves to look like an Academy Award nominee. And regardless of the price of the dresses in her closet, she can make that happen time and time again with the right jewelry piece. To celebrate Helen Hunt's bold red carpet statement, Topazery has selected a pair of Antique Style Diamond Stud Earrings and an Art Deco Antique Diamond Pin for its March spotlights. Both pieces closely resemble the ones the actress dressed up her H&M frock with.
When asked by Ryan Seacrest why she selected H&M when she could have worn Valentino or Armani, Hunt didn't miss a beat in explaining, "because it (the H&M gown) was the most beautiful dress I tried on and they (H&M) partner with Global Green." Topazery endorses that sentiment as well. Because one of the jewelry boutique's March spotlight pieces is an antique, it embrace what Hunt loves most about H&M: the company's focus on eco-friendliness.
For more information on how to transform an ordinary dress into something that is red carpet worthy, contact Jan Walden at (678) 528-8901. To browse Topazery Jewelry's full line of scene-stealing diamond earrings, brooches, rings, bracelets and necklaces, visit the company online at http://www.topazery.com/.