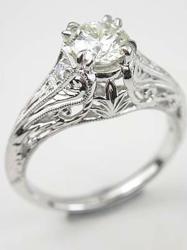 In bridal jewelry, what's old is decidedly new this season. The subtle and delicate look of vintage-inspired engagement and wedding rings is in.
Atlanta, GA (PRWEB) May 31, 2012
As summer wedding season quickly approaches, Topazery Jewelry continues its decade anniversary celebration with a 10-percent-off sale which begins in early June. Key pieces included in this sale are antique and antique-style engagement rings and wedding bands that are right on trend with this year's bridal jewelry must-haves. White gold, antique flavor, colored gemstones and matching bridal sets are just some of the in-style-now crazes brides-to-be – and their grooms – will find at the antique jewelry boutique.
According to an April 30, 2012 Fox6 News report on the "latest in engagement rings," white gold remains the metal of choice for brides and grooms this wedding season for both engagement rings and wedding bands. Topazery Jewelry currently has dozens of 14k white gold and 18k white gold rings in stock, many of which will be on sale in early June in celebration of the antique jewelry boutique's 10th anniversary.
The jewelers tapped for the TV news segment also pointed out, "There [are] a lot of ladies who come in with their boyfriends and say, 'I would want to do something a little more antiquey.'" Wedding specialists TheKnot.com echoed this propensity in its rundown of "4 Hot Wedding Ring Styles": "What's old is decidedly new this season. The subtle and delicate look of vintage-inspired rings is in." As a specialist in antique, vintage and antique style engagement ring and wedding bands, this is a trend that Topazery Jewelry is right on top of. And for a limited time only, some of the company's most sought-after pieces, including champagne diamond engagement rings, will soon be marked down by 10 percent.
Brides-to-be who are looking for something a bit more contemporary, however, need not assume Topazery has nothing to offer them. "We also offer the Topazery Collection, which includes antique style engagement and wedding rings with all the latest gemstones," explains founder Jan Walden. Current highlights include engagement rings and wedding bands featuring tourmalines, green and yellow sapphires, and honey and yellow diamonds. Indeed, TheKnot.com says that colored stones like "canary yellow diamonds, blue and pink sapphires, even rare light pink diamonds are appearing on fourth fingers everywhere."
Matching wedding bands and engagement rings are also something that brides still do "all the time." Topazery Jewelry currently has several bridal rings sets in stock, including ones featuring diamonds, champagne diamonds and aquamarines. Regardless of the ring style that fulfills a bride's dream wedding, Topazery strives to stand apart from the jewelry crowd. "Our customers love our unusual antique style designs, which are only sold at Topazery.com," Walden points out.
For more information on what is en vogue for engagement rings and wedding bands this upcoming summer wedding season, contact Jan Walden at (678) 528-8901. To see all the engagement ring and wedding band options the antique jewelry boutique currently offers, visit Topazery Jewelry online at http://www.topazery.com