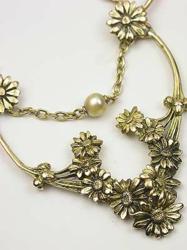 Vintage and antique jewelry tells a story. These jewelry pieces remind baby boomers of their beloved parents and grandparents.
Atlanta, GA (PRWEB) June 20, 2012
As they enter their golden years, baby boomers are spending a good portion of their free time reminiscing about the past. Topazery Jewelry captures that nostalgia, helping them relive unforgettable moments from their past. The online antique jewelry boutique specializes in vintage, antique-style and antique rings, pins, brooches, earrings, bracelets, necklaces and other jewelry pieces that will transport boomers to a bygone era, straight back into grandma's jewelry box.
According to a January 2010 CNBC segment titled "Bust of the Baby Boomer Economy: 'Generation Spend' Tightens Belt," "The recession and collapse of asset values have caused boomers to immediately cut back on spending and increase savings." A follow-up November 2010 Fox Business report indicated that phase wasn't just a passing one for baby boomers. "After 40 years of dominating this country's economy, baby boomers are starting to throttle back on spending."
While the recession has certainly played a part in this belt tightening, it's not the only contributor. The Fox Business article went on to point out, "More and more baby boomers are reaching the stage in life when status symbols and collecting 'things' are not as important as they used to be. 'They're more interested in experiences'."
That explains why "Despite financial stresses, many boomers say legacy is more vital than wealth," the "Pittsburgh Post-Gazette" reported in May 2012. Based on the results of a study conducted by Allianz Life Insurance Co., "the majority of boomers place far more value on the life lessons and family history they inherit from their parents." As a result, one retail sector in which they're not afraid to continue splurging is anything that reminds them of the good old days, and in particular, those things that remind them of the individuals who have shaped who they've become.
Not surprisingly then, while boomer spending on luxury jewelry is down, antique and vintage jewelry is selling surprisingly well. "Nostalgia is a key motivator in getting the baby boomer generation to open their pocketbooks these days," explains Jan Walden, founder of antique jewelry boutique Topazery Jewelry. "Vintage jewelry dating back to the eras of their birth, perhaps even engraved with their birth year, is just something that can't be replicated. That makes it special."
Vintage and antique jewelry tells a story. These jewelry pieces remind baby boomers of their beloved parents and grandparents. "Perhaps it's an antique pin grandma wore that they toyed with while nestled in her arms as a child. Or it might be a pocket watch grandpa kept tucked in his trousers and pulled out for them to marvel over," Walden continues. "We offer jewelry which recaptures such unforgettable moments for boomers."
For more information on how to uncover a jewelry piece that recreates a precious moment from the past, contact Jan Walden at (678) 528-8901. To spark a memory from the past, browse Topazery Jewelry's antique and vintage jewelry pieces online at http://www.topazery.com