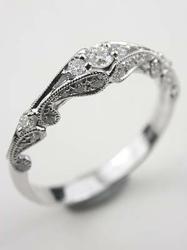 Even today's modern, young, liberal woman sometimes craves a touch of the traditional when it comes to her wedding ring.
Atlanta, GA (PRWEB) April 16, 2013
Topazery Jewelry has just discovered that it recently stirred up a buzz on a "Cosmopolitan" magazine forum thread. The topic of that thread, "What style engagement ring have you got/want?" prompted one participant to post a link to Topazery's Swirling Diamond Wedding Band. That shout-out led to subsequent posters chiming in with oohs and aahs for the vintage style wedding ring.
The Cosmo forum topic, which was started late last year, is a popular one. So popular in fact that five months later it is still stirring discussion. In late January of this year, a poster going by the username of Blueberry_Pie added to the thread with the comment, "I want one like this." She attached a Pinterest upload showing a vintage style diamond wedding band with delicate scrolls and swirls.
Soon thereafter, fellow forum users started clamoring for more information about the wedding ring. "That's gorgeous," one of them gushed before demanding, "Where's it from?" Upon seeing the ring's picture, another commenter raved, "My mind has just changed … that ring is just stunning, it looks really magical!" Blueberry_Pie responded, "I know it's beautiful isn't it! Now I just have to find one in real life!"
Apparently, that's precisely what she did because fifteen minutes later she edited her post to inform everyone she'd found it. She then included a link to Topazery's Antique Style Wedding Rings page. That link spurred followers of the thread to flock to Topazery. After one such visit, another poster declared, "Been looking at the other rings on the website," with an eye-popping emoticon attached to the comment.
The ring that brewed all this excitement is Topazery's vintage wedding ring with a swirling diamond band. Featuring an array of diamonds that total 0.33 carats, the 18k white gold ring is done in a vintage style that is redolent of the romantic yesteryear.
"What's interesting to note about the forum thread in which we were singled out," points out Topazery's Jan Walden, "is that descriptive adjectives like classic and vintage keep coming up over and over again. Despite Cosmo being marketed to the modern, young, liberal woman, when it comes to her wedding day, she often still craves a touch of the traditional. At Topazery, we pride ourselves on catering to all brides, no matter their style."
For more information on how to lend a splash of vintage/antique romance to a modern wedding, contact Jan Walden at (678) 528-8901. To browse Topazery Jewelry's full line of engagement and wedding rings, visit the company online at http://www.topazery.com/.