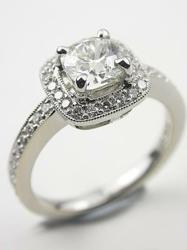 Fairy tale engagements begin with an engagement ring from Topazery Jewelry. Find the ring of her dreams just like Jef Holm did for Batchelorette Emily Maynard.
Atlanta, GA (PRWEB) August 01, 2012
The Bachelorette's Emily Maynard has spoken and the final rose, along with her hand in marriage, has gone to Utah native and early-on underdog Jef Holm. As millions of viewers watched Jef get down on one knee earlier this week and propose to the single mother, they may have also ogled the engagement ring he slipped on her finger. Antique jewelry boutique Topazery.com now reveals that those fans can find a similar engagement ring in its online store.
Unlike in seasons past, the show's runner-up, Arie Luyendyk, Jr., did not pick out an engagement ring. In the end, Maynard rejected him before he could. That's because Holm had clearly stolen her heart … and with good reason. From the moment, Holm skateboarded in behind the limo to meet the Bachelorette, he showed that he was not afraid to stand out from the crowd. And the unusual engagement ring he selected for his now bride-to-be reflected that uniqueness. "The rare Neil Lane piece is reportedly 3.5 carats and features a custom 2.5 carat emerald center stone, accented with 87 round-cut diamonds on a platinum band," In Style revealed.
Emily and her chosen bachelor got off to a slow start, but as time went on their obvious love for each other unfolded. When Jef Holm finally got up the nerve to kiss her in London, he later told reporters, "My first kiss with Emily was the most anticipated kiss and the best kiss of my life by far. The placement and the setting and the surroundings … the girl and our chemistry and everything was perfect. … I'm really glad and I wouldn't have it any other way than to wait for it like we did … our relationship just started to blossom from there."
And apparently Emily felt the same way because when he asked for her hand in marriage with a diamond engagement ring that swims in a surrounding sea of smaller diamonds, she ecstatically accepted. His intentions sealed with an engagement ring like that, it's a pretty good bet that Holm's desire to have with Maynard a love "that will make the storybooks jealous" is about to come true.
"Our cushion cut diamond engagement ring has that same type of storybook quality to it," says Topazery Jewelry's spokesperson, Jan Walden. "Its squarish center diamond is very much like the emerald cut one Jef chose for Emily. And it too is framed by an unending stream of diamond accents."
For more information on how to get a love affair off to a fairy tale start like the one between Emily Maynard and Jef Holm, contact Jan Walden at (678) 528-8901. To browse Topazery Jewelry's Bachelorette-worthy engagement rings, visit the company online at http://www.topazery.com/